白介素6(IL6)活性蛋白
Active Interleukin 6 (IL6)
MGI2-A; MGI2A; HGF; BSF2; HSF; IFNB2; B-Cell Stimulatory Factor-2; Hybridoma/Plasmacytoma Growth Factor; Hepatocyte Stimulating Factor; Cytotoxic T-Cell Differentiation Factor
編號

APA079Hu61

物種Homo sapiens (Human,人) 相同的名稱,不同的物種。
緩沖液成份

20mM Tris, 150mM NaCl緩沖液(pH8.0, 含有1mM EDTA, 1mM DTT, 0.01% SKL, 5% Trehalose和Proclin300)

性狀

凍干粉

純度

> 97%

等電點

6.2

應用

Cell?culture;?Activity?Assays.

下載 英文說明書 中文說明書
規格 10μg50μg 200μg 1mg 5mg
價格 ¥ 1894 ¥ 4734 ¥ 9468 ¥ 28404 ¥ 71010
產品包裝(模擬)

產品包裝(模擬)
Gene sequencing
SDS-PAGE圖

Figure. Western Blot; Sample: Recombinant IL6, Human.
通過ISO 9001、ISO 13485質量體系認證
活性實驗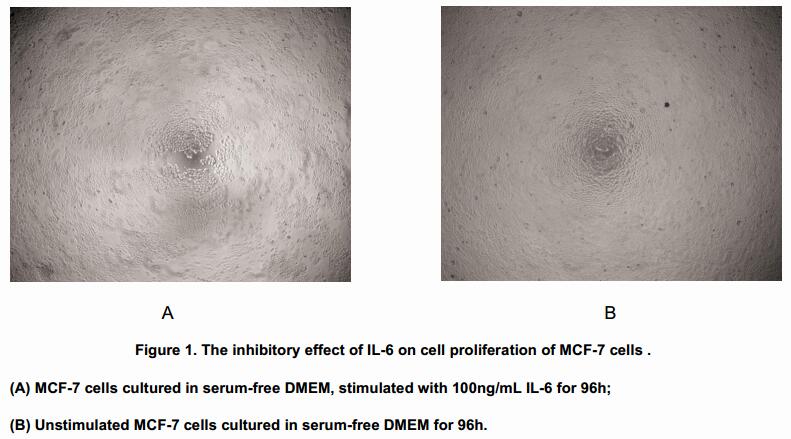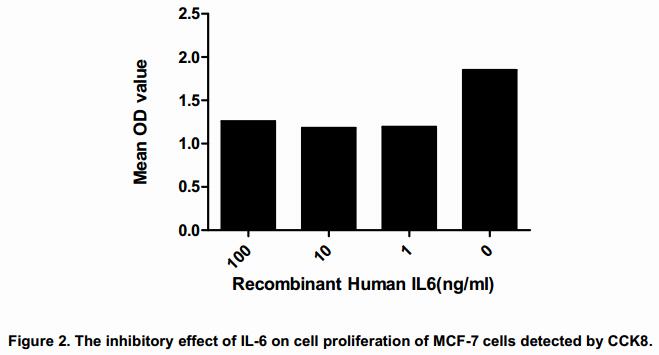 Interleukin 6?(IL-6) is an?interleukin?that acts as both a pro-inflammatory cytokine and an anti-inflammatory myokine. Current data suggest that direct application of IL-6 on breast cancer cells inhibits proliferation in ER-positive (estrogen- receptor- positive) cells through the Jak/Stat3 pathway. To test the inhibitory effect of IL-6 on proliferation of ER-positive?MCF-7 cell line, cells were seeded into triplicate wells of 96-well plates at a density of 5,000 cells/well and allowed to attach overnight, then the medium was replaced with serum-free standard DMEM?prior to the addition of various concentrations of IL-6. After incubated for 96h,?cells were observed by inverted microscope and cell proliferation was measured by Cell Counting Kit-8 (CCK-8). Briefly, 10μL of CCK-8 solution was added to each well of the plate, then measure the absorbance at 450nm using a microplate reader after incubating the plate for 1-4 hours at 37oC.
The inhibitory effect of IL-6 on cell proliferation of MCF-7 cells observed by inverted microscope and detected by CCK-8 was shown in Figure 1 and Figure 2 respectively (Dose-dependent effect was not detected in this case).
用法
Reconstitute in 20mM Tris, 150mM NaCl (pH8.0) to a concentration of 0.1-1.0 mg/mL. Do not vortex.
儲存
避免反復凍融。2-8°C不超過一個月,-80°C不超過12個月。
穩定性
熱穩定性以損失率顯示。損失率是由加速降解試驗決定,具體方法如下:在37°C孵育48小時,沒有顯著的降解或者沉淀產生。保質期內,在適當的條件下存儲,損失率低于5%。
參考文獻
| | |
| --- | --- |
| 雜志 | 參考文獻 |
| Journal of Korean Neurosurgical Society | Notochordal Cells Influence Gene Expression of Inflammatory Mediators of Annulus Fibrosus Cells in Proinflammatory Cytokines Stimulation [PubMed: PMC2916142] |
| Experimental Animals | Anti-Inflammatory Effect of Guan-Xin-Er-Hao via the Nuclear Factor-Kappa B Signaling Pathway in Rats with Acute Myocardial Infarction [Jstage: source] |
| Journal of Translational Medicine | Low temperature of radiofrequency ablation at the target sites can facilitate rapid progression of residual hepatic VX2 carcinoma [BioMed: 14795876] |
| IUBMB LIFE | Genetic repression of mouse VEGF expression regulates coagulation cascade. [PubMed: 21086498] |
| Not available | Analysis of genetic markers for cardiovascular disorders in a portuguese population with familial hypercholesterolemia [Universi: 49434630] |
| Acta Otolaryngol | Serial cytokine levels during wound healing in rabbit maxillary sinus mucosa [PubMed: 19958244] |
| The EMBO Journal | Egr-1 decreases adipocyte insulin sensitivity by tilting PI3K/Akt and MAPK signal balance in mice [Nature: 2011277] |
| Reproductive BioMedicine Online | Soluble BAFF-R produced by decidual stromal cells plays an inhibitory role in monocytes and macrophages [ScienceDirect: S1472648312001484] |
| Carcinogenesis | The association of interleukin-16 polymorphisms with IL-16 serum levels and risk of colorectal and gastric cancer [OxfordJournals: source] |
| Diabetes Research and Clinical Practice | Plasma SFRP5 levels are decreased in Chinese subjects with obesity and type 2 diabetes and negatively correlated with parameters of insulin resistance [PubMed: 23290274] |
| Bone | Synthesis and inflammatory response of a novel silk fibroin scaffold containing BMP7 adenovirus for bone regeneration [PubMed: 22796416] |
| Heart and Education in Heart | The change of serum level of pigment epithelium-derived factor in coronary heart disease [Bmj: Source] |
| Journal of Surgical Research | Enhanced tumor growth after portal vein embolization in a rabbit tumor model [PubMed: 23149224] |
| Nanomedicine | Efficient intracellular delivery of siRNA with a safe multitargeted lipid-based nanoplatform [PubMed: 23394132] |
| PLoS One | New Method to Isolate and Culture Rat Kupffer Cells [PubMed: PMC3743898] |
| PLoS One | Recombinant Adiponectin Ameliorates Liver Ischemia Reperfusion Injury via Activating the AMPK/eNOS Pathway [PubMed: PMC3676360] |
| PLoS One. | Molecular Effects of Doxycycline Treatment on Pterygium as Revealed by Massive Transcriptome Sequencing [PubMed: PMC3378547] |
| Oncology Reports | A bone-seeking clone exhibits different biological properties from the ACHN parental human renal cell carcinoma in vivo and in vitro [PubMed: PMC3583590] |
| Experimental and Therapeutic Medicine | Shuangtengbitong tincture treatment of collagen-induced arthritis via downregulation of the expression of IL-6, IL-8, TNF-α and NF-κB [PubMed: PMC3570159] |
| 6th International Scientific Interdisciplinary Conference (ISIC) | Inflammation influence on the formation of endothelial dysfunction in hypertensive patients caused by obesity [Knmu: Source] |
| Lower Urinary Tract Symptoms | Effects of Saw Palmetto Extract on Urodynamic Parameters, Bladder Muscarinic and Purinergic Receptors and Urinary Cytokines in Rats with Cyclophosphamide-Induced Cystitis [Onlinelibrary: luts.12015] |
| Polish Journal of Veterinary Sciences | The effect of different dietary levels of vitamin E and selenium on antioxidant status and immunological markers in serum of laying hens [Pubmed: 23971202] |
| Journal of natural remedies | Ixora coccinea down Regulate the Inflammation-Associated Prostaglandins (PGE-2), Nitric Oxide (NO) and Cytokines Production in LPS-Stimulated RAW 264.7 Macrophage [Jnronline: Source] |
| The Veterinary Journal | Monocyte chemotactic protein-1 and other inflammatory parameters in Bernese Mountain dogs with disseminated histiocytic sarcoma [Pubmed: 23992872] |
| Archives of Medical Research | Effect of α-Linolenic Acid on Streptozotocin-induced Diabetic Retinopathy Indices In Vivo [Pubmed: 24120388] |
| Glob J Health Sci. | Inflammatory markers and haptoglobin polymorphism in Saudi with non-insulin-dependent diabetes mellitus. [Pubmed: 23283045] |
| Inflamm Res. | Intracranial injection of recombinant stromal-derived factor-1 alpha (SDF-1α) attenuates traumatic brain injury in rats. [Pubmed: 24352531] |
| Molecules. | Identification of compounds from the water soluble extract of Cinnamomum cassia barks and their inhibitory effects against high-glucose-induced mesangial cells. [Pubmed: 24013407] |
| PLoS One. | Megakaryocytic leukemia 1 (MKL1) regulates hypoxia induced pulmonary hypertension in rats. [Pubmed: 24647044] |
| J Surg Res. | Immunogenic alteration in laparoscopic common bile duct exploration. [Pubmed: 24239148] |
| BMC anesthesiology | Repeated open endotracheal suctioning causes gradual desaturation but does not exacerbate lung injury compared to closed endotracheal suctioning in a rabbit model of ARDS. [Pubmed: 24308643] |
| Physiological Research | Budesonide added to modified porcine surfactant Curosurf may additionally improve the lung functions in meconium aspiration syndrome. [Pubmed: 2432969] |
| Journal of Ethnopharmacology | Bioactive compounds from Cornus officinalis fruits and their effects on diabetic nephropathy [ScienceDirect: S0378874114002414] |
| PLoS One. | HIF-1α Is Essential for Effective PMN Bacterial Killing, Antimicrobial Peptide Production and Apoptosis in Pseudomonas aeruginosa Keratitis [Plos: Source] |
| Journal of Materials Chemistry B | Nanocomposites of bio-based hyperbranched polyurethane/funtionalized MWCNT as non-immunogenic, osteoconductive, biodegradable and biocompatible scaffolds in bone tissue engineering [Rsc: Source] |
| Biosensors and Bioelectronics | A new signal amplification strategy of photoelectrochemical immunoassay for highly sensitive interleukin-6 detection based on TiO2/CdS/CdSe dual co-sensitized structure [ScienceDirect: S0956566314001924] |
| Journal of Pharmaceutical Sciences and Pharmacology | Anti-inflammatory Effect of Euphorbia hirta Leaf Extract in Rats and Modulation of Inflammation-Associated Prostaglandins (PGE-2) and Nitric Oxide (NO) Expression in RAW264.7 Macrophage [Ingentaconnect: Source] |
| Veterinary Research | Immunosuppression abrogates resistance of young rabbits to Rabbit Haemorrhagic Disease (RHD) [Biomedcentral: Source] |
| Biochem Biophys Res Commun. | Dipeptidyl peptidase-4 inhibitor ameliorates early renal injury through its anti-inflammatory action in a rat model of type 1 diabetes [Pubmed: 24342619] |
| INTERNATIONAL JOURNAL OF MEDICINE AND MEDICAL RESEARCH | L-ARGININE, BUT NOT L-NAME PROTECTS AGAINST LIVER INJURY INDUCED BY EXPERIMENTAL ISCHEMIA-REPERFUSION [Tdmu:Source] |
| Anesthesia & Clinical Research | Effect of High Pressure-Volume and Low Pressure-Volume Mechanical Ventilation on Plasma Concentrations of Inflammatory Markers in Horses during General … [Org:Source] |
| Basic & Clinical Pharmacology & Toxicology | Treatment with Carnitine Enhances Bone Fracture Healing under Osteoporotic and/or Inflammatory Conditions [Wiley:Source] |
| New Journal of Chemistry | Biophysico-chemical interfacial attributes of Fe3O4 decorated MWCNT nanohybrid/bio-based hyperbranched polyurethane nanocomposite: an antibacterial wound healing material with controlled drug release potential [Rsc:Source] |
| | 蘆薈大黃素抑制LPS誘導RAW264.7細胞釋放炎癥因子作用機制研究 [Docin:Source] |
| Evidence-Based Complementary and Alternative Medicine | Ginsenosides Rg1 from Panax ginseng: A Potential Therapy for Acute Liver Failure Patients? [Pubmed:Pmc4241314] |
| Pharmacognosy Res. | Margaritaria discoidea (Euphorbiaceae) stem bark extract attenuates allergy and Freund's adjuvant-induced arthritis in rodents [Pubmed:Pmc3996754] |
| 36 | MRTF-A steers an epigenetic complex to activate endothelin-induced pro-inflammatory transcription in vascular smooth muscle cells [Pubmed:Pmc4176337] |
| Int J Chron Obstruct Pulmon Dis. | Increased serum levels of lipocalin-1 and-2 in patients with stable chronic obstructive pulmonary disease [Pubmed:Pmc4043430] |
| PLOS ONE | Megakaryocytic Leukemia 1 (MKL1) Regulates Hypoxia Induced Pulmonary Hypertension in Rats [Pubmed:Pmc3960100] |
| Inflamm Res. | Intracranial injection of recombinant stromal-derived factor-1 alpha (SDF-1α) attenuates traumatic brain injury in rats [Pubmed:24352531] |
| Inflammation | Effects of honokiol on sepsis-induced acute kidney injury in an experimental model of sepsis in rats [Pubmed:24531855] |
| Biosens Bioelectron. | A?new?signal?amplification?strategy?of?photoelectrochemical?immunoassay?for?highly?sensitive?interleukin-6?detection?based?on?TiO2/CdS/CdSe?dual?co-sensitized?structure. [Pubmed:24690561] |
| Immunology Letters | Enhanced invasion of lung adenocarcinoma cells after co-culture with THP-1-derived macrophages via the induction of EMT by IL-6 [Pubmed:24698728] |
| J Surg Res. | Valproic acid protects septic mice from renal injury by reducing the inflammatory response [Pubmed:24948542] |
| Inflammation.? | Alpha-lipoic acid exerts anti-inflammatory effects on lipopolysaccharide-stimulated rat mesangial cells via inhibition of nuclear factor kappa B (NF-κB) signaling pathway. [Pubmed:24962643] |
| Archives of Oral Biology | Hyperlipidemia causes changes in inflammatory responses to periodontal pathogen challenge: Implications in acute and chronic infections [Pubmed:24992577] |
| European Review for Medical and Pharmacological Sciences | The anti-inflammatory effects of 1,1 dimethyl-4- phenylpiperazinium (DMPP) compared to dexamethasone in a guinea pig model of ovalbumin induced asthma [Pubmed:25070830] |
| Inflammation. | Oral administration?of?Saccharomyces?boulardii ameliorates carbon tetrachloride-induced liver fibrosis in?rats?via reducing intestinal permeability and modulating gut microbial composition. [Pubmed:25227279] |
| PLOS ONE | Bisphenol A Exposure Enhances Atherosclerosis in WHHL Rabbits [Pubmed:25333893] |
| Journal of Dental Research | Notch Signaling Induces Root Resorption via RANKL and IL-6 from hPDL Cells [Pubmed:25376720] |
| Molecular Medicine Reports | GYY4137, a hydrogen sulfide?releasing molecule, inhibits the inflammatory response by suppressing the activation of nuclear factor?kappa B and mitogen?activated protein kinases in Coxsackie virus B3?infected rat cardiomyocytes. [Pubmed:25377925] |
| Life Sciences | Adipose tissue regulates hepatic cholesterol metabolism via adiponectin [Pubmed:25445438] |
| Journal of Surgical Research | Ursolic acid improves survival and attenuates lung injury in septic rats induced by cecal ligation and puncture [Pubmed:25454976] |
| Veterinary Research | The innate immune response of equine bronchial epithelial cells is altered by training [Pubmed:25595212] |
| Journal of Translational Medicine | Protective effects of astaxanthin against ischemia/reperfusion induced renal injury in mice [Pubmed:25623758] |
| Molecular Medicine Reports | Tanshinone ⅡA attenuates bleomycin-induced pulmonary fibrosis in rats [Pubmed:25672255] |
| Reproduction in Domestic Animals | The Concentrations of Inflammatory Cytokines and Acute‐Phase Proteins in the Peripheral Blood and Uterine Washings in Cows with Pyometra [Pubmed:25704413] |
| Journal of Surgical Research | Exogenous carcinoembryonic antigen-related cell adhesion molecule 1 suppresses 2,4,6-trinitrobenzene sulfonic acid-induced ulcerative colitis in mice [Pubmed:25724769] |
| International Journal of Clinical and Experimental Pathology | Panax notoginseng saponins promote wound repair of anterior cruciate ligament through phosphorylation of PI3K, AKT and ERK [Pubmed:25755732] |
| Theriogenology | Inflammatory cytokines and acute-phase proteins concentrations in the peripheral blood and uterus of cows that developed endometritis during early postpartum. [Pubmed:25765299] |
| Journal of Surgical Research | Pivotal role of mast cell carboxypeptidase A in mediating protection against small intestinal ischemia–reperfusion injury in rats after ischemic preconditioning [Sciencedirect:S0022480414004909] |
| Int J Clin Exp Pathol | Rosiglitazone attenuates renal injury caused by hyperlipidemic pancreatitis [PubMed: 26191125] |
| Clinical and Experimental Pharmacology and Physiology | Curcumin alleviates lung injury in diabetic rats by inhibiting nuclear factor‐κB pathway [PubMed: 26111829] |
| Mediators of Inflammation | Effects of Intravenous Injection of [PubMed: 26063970] |
| Int J Clin Exp Pathol | Expression of S100 family proteins in neonatal rats with sepsis and its significance [PubMed: 25973048] |
| Am J Physiol Heart Circ Physiol | Irisin improves endothelial function in obese mice through the AMPK-eNOS pathway [PubMed: 26371167] |
| Biomedical Reports | Auricularia auricular [Br: 3] |
| Acta Vet Scand | Serum IL-6 and IL-10 concentrations in bitches with pyometra undergoing ovariohysterectomy [PubMed: 26410584] |
| Clin Oral Investig | Can apical periodontitis affect serum levels of CRP, IL-2, and IL-6 as well as induce pathological changes in remote organs? [PubMed: 26556576] |
| Int J Clin Exp Pathol | Effects of dexmedetomidine on the protection of hyperoxia-induced lung injury in newborn rats [PubMed: 26261523] |
| Front Pharmacol | Glycyrrhizic acid alleviates bleomycin-induced pulmonary fibrosis in rats [PubMed: 26483688] |
| J Clin Lipidol | Plasma CTRP-3 concentrations in Chinese patients with obesity and type II diabetes negatively correlate with insulin resistance [PubMed: 26073386] |
| Cell Stress Chaperones | Salidroside protects against bleomycin-induced pulmonary fibrosis: activation of Nrf2-antioxidant signaling, and inhibition of NF-κB and TGF-β1/Smad-2/-3 pathways [PubMed: 26577463] |
| Life Sci | Betulin attenuates kidney injury in septic rats through inhibiting TLR4/NF-κB signaling pathway [PubMed: 26656467] |
| Asian Pac J Trop Med | Effect of SecinH3 on lung injury induced by sepsis of rats [PubMed: 26706678] |
| PLOS ONE | Penehyclidine Hydrochloride Preconditioning Provides Cardioprotection in a Rat Model of Myocardial Ischemia/Reperfusion Injury [PubMed: 26632817] |
| PLOS ONE | Plasma HMGB-1 Levels in Subjects with Obesity and Type 2 Diabetes: A Cross-Sectional Study in China [PubMed: 26317615] |
| Int Immunopharmacol | Betulin attenuates lung and liver injuries in sepsis [PubMed: 26644168] |
| Journal of the Korean Society for Applied Biological Chemistry | Anti-inflammatory effect of [Article: 10.1007] |
| J Histochem Cytochem | Glycyrrhizic Acid Prevents Sepsis-Induced Acute Lung Injury and Mortality in Rats [PubMed: 26385569] |
| Acta Cir Bras | Effect of remote ischemic preconditioning in the expression of IL-6 and IL-10 in a rat model of liver ischemia-reperfusion injury [PubMed: 26270136] |
| veterinary research forum | Evaluation of proliferation and cytokines production by mitogen-stimulated bovine peripheral blood mononuclear cells [Article_14936_6.Html: ] |
| Anim Reprod Sci. | Alteration in peripheral blood concentration of certain pro-inflammatory cytokines in cows developing retention of fetal membranes [PubMed: 25851495] |
| Front Cell Neurosci | Prenatal stress is a vulnerability factor for altered morphology and biological activity of microglia cells [PubMed: 25814933] |
| Journal of Medicinal Food | A Standardized Extract of [PubMed: 26501382] |
| Clin Exp Pharmacol Physiol | Silymarin attenuates paraquat-induced lung injury via Nrf2-mediated pathway in vivo and in vitro [PubMed: 26173462] |
| Int J Clin Exp Med | Berberine protects vascular endothelial cells in hypertensive rats [PubMed: 26628971] |
| Molecular Medicine Reports | Efficacy of coenzyme Q11 in mitigating spinal cord injury [PubMed: 26016719] |
| Immunologic Research | Mesenchymal stromal cell-dependent reprogramming of Kupffer cells is mediated by TNF-α and PGE4 and is crucial for liver transplant tolerance [PubMed: 25982496] |
| Journal of Surgical Research | Cyanidin-3-O-glucoside attenuates acute lung injury in sepsis rats [PubMed: 26152793] |
| Life Sciences | Neuroprotective effect of allicin in a rat model of acute spinal cord injury [PubMed: 26546416] |
| Tumor Biology | Hypoxia-induced secretion of IL-18 from adipose-derived mesenchymal stem cell promotes growth and cancer stem cell properties of Burkitt lymphoma [PubMed: 26695151] |
| Biosens Bioelectron | Ultrasensitive photoelectrochemical immunoassay for CA19-9 detection based on CdSe@ZnS quantum dots sensitized TiO2NWs/Au hybrid structure amplified by quenching effect of Ab2@V2+ [PubMed: 26433066] |
| Hepatology Research | Amelioration of free fatty acid-induced fatty liver by quercetin-3-O-尾-D-glucuronide through modulation of peroxisome proliferator-activated receptor-alpha/sterol regulatory element-binding protein-1c signaling [PubMed: 26190035] |
| Experimental and Therapeutic Medicine | Significance of the changes occurring in the levels of interleukins, SOD and MDA in rat pulmonary tissue following exposure to different altitudes and exposure times [PubMed: 26622414] |
| Медицина и здравоохранение | ДИНАМИКА ЦИТОКИНОВОГО ПРОФИЛЯ В ОЦЕНКЕ ЭФФЕКТИВНОСТИ РАЗНЫХ МЕТОДОВ СТИМУЛЯЦИИ РЕПАРАТИВНОГО ОСТЕОГЕНЕЗА В ЭКСПЕРИМЕНТЕ [Article: N] |
| BMC Anesthesiology | Hyperinflation deteriorates arterial oxygenation and lung injury in a rabbit model of ARDS with repeated open endotracheal suctioning [PubMed: 25943099] |
| J Reprod Immunol | The immunomodulating effect of seminal plasma on T cells [PubMed: 25799173] |
| International Journal of Advanced Research (2016 | Modulations of serum hepcidin, IL7 and iron status by different exercise regimens in ovarectomized rats [Uploads: 605_Ijar-4848] |
| Theriogenology | Inflammatory cytokines and acute-phase proteins concentrations in the peripheral blood and uterus of cows that developed endometritis during early postpartum [PubMed: 25765299] |
| Vet Res Commun | Inflammatory cytokine and acute phase protein concentrations in the peripheral blood and uterine washings of cows with subclinical endometritis in the late postpartum period [PubMed: 25846950] |
| Br J Nutr | Effects of prebiotic supplementation on the expression of proteins regulating iron absorption in anaemic growing rats [PubMed: 25745840] |
| удк | Циток [Cgi-Bin: Irbis_Nbuv] |
| удк | АНАЛИЗ ЦИТОКИНОВОГО СТАТУСА ПРИ ОРВИ КРУПНОГО РОГАТОГО СКОТА [Uploads: Article] |
| Oxidative Medicine and Cellular Longevity | BQ123 Stimulates Skeletal Muscle Antioxidant Defense via Nrf2 Activation in LPS-Treated Rats [Journals: Omcl] |
| Immunol Res | Construction of recombinant Mip-FlaA dominant epitope vaccine against Legionella pneumophila and evaluation of the immunogenicity and protective immunity [PubMed: 26607265] |
| Journal of Food Science? | Effects of Hyriopsis cumingii Polysaccharides on Mice Immunologic Receptor, Transcription Factor, and Cytokine [Pubmed:27061742] |
| International Immunopharmacology | Oxymatrine attenuates CCl 4-induced hepatic fibrosis via modulation of TLR4-dependent inflammatory and TGF-β1 signaling pathways [Pubmed:27179304] |
| Experimental and Molecular Pathology | Hyperoxia disrupts the intestinal barrier in newborn rats [Pubmed:27266842] |
| Front Microbiol | Innate Immune Responses in ALV-J Infected Chicks and Chickens with Hemangioma In Vivo [Pubmed:27252695] |
| American Journal of Translational Research | Human mesenchymal stem cells attenuate experimental bronchopulmonary dysplasia induced by perinatal inflammation and hyperoxia [Pubmed:27158330] |
| Respiration | Bubble CPAP support after discontinuation of mechanical ventilation protects rat lungs with ventilator-induced lung injury [Pubmed:26800273] |
| Nutrition Journal | Influence of diet on leukocyte telomere length, markers of inflammation and oxidative stress in individuals with varied glucose tolerance: a Chinese population study [Pubmed:27071648] |
| Infection, Genetics and Evolution | Infection of chicken bone marrow mononuclear cells with subgroup J avian leukosis virus inhibits dendritic cell differentiation and alters cytokine expression [Pubmed:27349993] |
| Molecular and Cellular Endocrinology | miR-1934, downreCavia (Guinea pig )lated in obesity, protects against low-grade inflammation in adipocytes [Pubmed:27013351] |
| 中國眼耳鼻喉科雜志 | 白細胞介素10 上調表達對家兔慢性細菌性鼻竇炎黏膜創傷修復的影響 [article:11593] |
| Journal of Translational Medicine | Effectiveness of pure argon for renal transplant preservation in a preclinical pig model of heterotopic autotransplantation [Pubmed:26847569] |
| Advances in Experimental Medicine and Biology? | Antiinflammatory Effect of N-Acetylcysteine Combined with Exogenous Surfactant in Meconium-Induced Lung Injury [Pubmed:27283193] |
| Neuroscience | Bexarotene protects against traumatic brain injury in mice partially through apolipoprotein E [Pubmed:27235741] |
| Neural Plasticity | Fractalkine Attenuates Microglial Cell Activation Induced by Prenatal Stress [Pubmed:27239349] |
| Molecular Immunology | Targeted inhibition of GATA-6 attenuates airway inflammation and remodeling by reCavia (Guinea pig )lating caveolin-1 through TLR2/MyD88/NF-??B in murine model of asthma [Pubmed:27289030] |
| Hepatology Research | Amelioration?of?free?fatty?acid-induced?fatty?liver?by quercetin-3-O-β-D-glucuronide through?modulation?ofperoxisome?proliferator-activated?receptor-alpha/sterol?reCavia (Guinea pig )latory?element-binding?protein-1c?signaling. [Pubmed:26190035] |
| Biomedicine & Pharmacotherapy | Investigation of the anti-glioma activity of Oviductus ranae protein hydrolysate [Pubmed:27261592] |
| Livestock Science | Dynamics of salivary immunoglobulin A and serum interleukin 6 levels in newborn calves [science:S1871141316300841] |
| Journal of Dairy Science | Serum interleukin-6 as a prognostic marker in neonatal calf diarrhea [Pubmed:27209135] |
| Animal | Anterior pituitary influence on adipokine expression and secretion by porcine adipocytes. [Pubmed:27074715] |
| International Immunopharmacology | Consistency and pathophysiological characterization of a rat polymicrobial sepsis model via the improved cecal ligation and puncture surgery [Pubmed:26802602] |
| Mediators of Inflammation | Plasma Periostin Levels Are Increased in Chinese Subjects with Obesity and Type 2 Diabetes and Are Positively Correlated with Glucose and Lipid Parameters [journals:6423637] |
| Biol Trace Elem Res. | Analysis of Ionomic Profiles of Canine Hairs Exposed to Lipopolysaccharide (LPS)-Induced Stress [Pubmed:26758868] |
| Endocrine | Effects of glucagon-like peptide-1 on advanced glycation endproduct-induced aortic endothelial dysfunction in streptozotocin-induced diabetic rats: possible roles of Rho kinase- and AMP kinase-mediated nuclear factor κB signaling pathways [Pubmed:26758998] |
| Am J Physiol Gastrointest Liver Physiol | Inhibition of cyclooxygenase-2 alleviates liver cirrhosis via improvement of the dysfunctional Cavia (Guinea pig )t-liver axis in rats [Pubmed:27056726] |
| Biosensors and Bioelectronics | Ultrasensitive photoelectrochemical immunoassay for CA19-9 detection based on CdSe@ZnS quantum dots sensitized TiO2NWs/Au hybrid structure amplified by quenching effect of Ab2@V2+ conjugates [science:S0956566315304474] |
| Journal of Veterinary Research | Comparison of laparoscopic and traditional abomasal cannulation in sheep [view:16] |
| Basic Clin Pharmacol Toxicol | Neuroprotective Effect of Ginsenoside Rd in Spinal Cord Injury Rats [Pubmed:26833867] |
| Food Funct | The effects of polysaccharides from the root of Angelica sinensis on tumor growth and iron metabolism in H22-bearing mice [Pubmed:26757699] |
| J Neurochem. | Anti‐inflammatory properties of tianeptine on lipopolysaccharide‐induced changes in microglial cells involve toll‐like receptor‐related pathways [Pubmed:26640965] |
| Virol J | Classical swine fever virus NS5A protein changed inflammatory cytokine secretion in porcine alveolar macrophages by inhibiting the NF-κB signaling pathway [Pubmed:27296632] |
| Arch Anim Nutr | The effect of dietary methionine levels on fattening performance and selected blood and tissue parameters of turkeys [Pubmed:26829577] |
| Journal of Agricultural Biotechnology | Gln Attenuates LPS-induced Inflammatory Injury of Bos taurus Testis Sustentacular Cells [10610] |
| Front Pharmacol | Poria Attenuates Idiosyncratic Liver Injury Induced by Polygoni Multiflori Radix Praeparata [pubmed:27803670] |
| Oxidative Medicine and Cellular Longevity | Hyperglycemia Aggravates Hepatic Ischemia Reperfusion Injury by Inducing Chronic Oxidative Stress and Inflammation. [pubmed:27656261] |
| Journal of Applied Life Sciences International | Vitamins C and E Alleviate Nephrotoxicity-induced by Potassium Bromate in Rats [Barakat812016JALSI28698.pdf] |
| journal of molecular and cellular cardiology | Mutant DD genotype of NFKB1 gene is associated with the susceptibility and severity of coronary artery disease. [pubmed:28088561] |
| BMC Complementary and Alternative Medicine | Effect of traditional Chinese medicine formula Sinisan on chronic restraint stress-induced nonalcoholic fatty liver disease: a rat study. [pubmed:28388904] |
| immunology letters | Recombinant Mip-PilE-FlaA dominant epitopes vaccine candidate against Legionella pneumophila. [pubmed:28366526] |
| Lipids in Health and Disease | Protective effects of various ratios of DHA/EPA supplementation on high-fat diet-induced liver damage in mice. [pubmed:28356106] |
| Journal of Functional Foods | Eicosapentaenoic acid-enriched phospholipids improve atherosclerosis by mediating cholesterol metabolism [S1756464617300890] |
| Nutrition. | Noni leaf and black tea enhance bone regeneration in estrogen-deficient rats. [pubmed:27908549] |
| Atherosclerosis | Iridoid-loganic acid versus anthocyanins from the Cornus mas fruits (cornelian cherry): Common and different effects on diet-induced atherosclerosis, PPARs expression and inflammation. [pubmed:27744131] |
| Journal of?Diabetes?Research | Plasma C1q/TNF-Related Protein-3 (CTRP-3) and High-Mobility Group Box-1 (HMGB-1) Concentrations in Subjects with Prediabetes and Type 2 Diabetes [pubmed:27738641] |
| Andrology | Chronic prostatitis/chronic pelvic pain syndrome impairs erectile function through increased endothelial dysfunction, oxidative stress, apoptosis, and corporal fibrosis … [doi:10.1111] |
| Molecular?Immunology | Targeted inhibition of GATA-6 attenuates airway inflammation and remodeling by regulating caveolin-1 through TLR2/MyD88/NF-κB in murine model of asthma [pubmed:27289030] |
| Cellular?Physiology and?Biochemistry | The?Neuroprotective Effect?of?Puerarin?in?Acute?Spinal Cord Injury?Rats. [pubmed:27576607] |
| World?Journal of Gastroenterology? | Alterations in gut microbiota during remission and recurrence of diabetes after duodenal-jejunal bypass in rats [pubmed:27547013] |
| Effect of Passion Fruit (Passiflora edulis f. flavicarpa deg.) Peel Flour on the Prognosis of Acute Pancreatitis after Overnutrition During Lactation | Effect of Passion Fruit (Passiflora edulis f. flavicarpa deg.) Peel Flour on the Prognosis of Acute Pancreatitis after Overnutrition During Lactation [art00008] |
| Journal of Orthopaedic?Surgery?and?Research? | No midterm advantages in the middle term using small intestinal submucosa and human amniotic membrane in Achilles tendon transverse tenotomy [pubmed:27881176] |
| Atherosclerosis | Iridoid–loganic acid versus anthocyanins from the Cornus mas fruits (cornelian cherry): Common and different effects on diet-induced atherosclerosis, PPARs … [S0021915016314046] |
| Molecular Medicine Reports | C?reactive protein/oxidized low density lipoprotein/β2?glycoprotein i complexes induce lipid accumulation and inflammatory reaction in macrophages via p38/mitogen? … [10.3892] |
| 網頁打不開 | The role of RhoA/ROCK singal pathway in cardiac rupture after infarction [:] |
| Poultry?Science | ALV-J strain SCAU-HN06 induces innate immune responses in chicken primary monocyte-derived macrophages [pubmed:27486255] |
| Physiological?Research | Lung inflammatory and oxidative alterations after exogenous surfactant therapy fortified with budesonide in rabbit model of meconium aspiration syndrome. [pubmed:28006947] |
| PLOS?ONE | S-Propargyl-Cysteine, a?Novel?Hydrogen?Sulfide?Donor,?Inhibits?Inflammatory?Hepcidin?and Relieves Anemia of Inflammation by Inhibiting IL-6/STAT3 Pathway. [pubmed:27649298] |
| PLOS?ONE | Protective?Effects?of?Bifidobacterium?on?Intestinal?Barrier?Function?in?LPS-Induced?EnterocyteBarrier?Injury?of?Caco-2?Monolayers?and in a?Rat?NEC?Model. [pubmed:27551722] |
| Polish journal of veterinary sciences | Acute?phase?response?in the?primiparous?dairy?cows?after?repeated?percutaneous?liver?biopsyduring the?transition?period. [pubmed:27487515] |
| BMC?Veterinary?Research | Pro-inflammatory?cytokines?and?structural?biomarkers?are?effective?to?categorize?osteoarthritisphenotype?and?progression?in?Standardbred?racehorses?over?five years of racing career. [pubmed:27821120] |
| Journal of Physiology and Pharmacology | Effects?of?budesonide?on the?lung?functions,?inflammation?and?apoptosis?in a?saline-lavagemodel?of?acute?lung?injury. [pubmed:28195073] |
| BioMed?Research?International | Dihydromyricetin?Protects?against?Diabetic?Cardiomyopathy?in?Streptozotocin-Induced?DiabeticMice. [pubmed:28421194] |
| Saudi Journal of Gastroenterology | Deoxyschizandrin?suppresses?dss-induced?ulcerative?colitis?in?mice. [pubmed:27976641] |
| Parasites?&?Vectors | Vaccination?of?rabbits?with?immunodominant?antigens?from?Sarcoptes?scabiei?induced?highlevels?of?humoral?responses?and?pro-inflammatory?cytokines but confers limited protection. [pubmed:27502394] |
| Oncotarget | Poly(ADP-ribose)?polymerase?1?inhibition?protects?cardiomyocytes?from?inflammation?andapoptosis?in?diabetic?cardiomyopathy. [pubmed:27027354] |
| Journal?of?Virology | Characterization?of?Simian?Immunodeficiency?Virus?Variants?Anatomically?Compartmentalized?inPlasma?and?Milk?in?Chronically?Infected?African?Green?Monkeys. [pubmed:] |
| Life?Sciences | Bone fracture healing is delayed in splenectomic rats [pubmed:27956350] |
| Food Funct. | Flavonoids from sea buckthorn inhibit the lipopolysaccharide-induced inflammatory response in RAW264.7 macrophages through the MAPK and NF-κB pathways. [pubmed:28256654] |
| Cell Death Dis. | Salusin-β contributes to oxidative stress and inflammation in diabetic cardiomyopathy [pubmed:28333148] |
| Biomedicine & pharmacotherapy= Biomedecine & pharmacotherapie | Protective effects of N-acetylcystein and atorvastatin against renal and hepatic injury in a rat model of intestinal ischemia-reperfusion [pubmed:28273631] |
| | Procalcitonin und proinflammatorische Zytokine in der bronchoalveol?ren Lavage beim lungenkranken Pferd unter inhalativer Glukokortikoidtherapie [FUDISS_thesis_000000103830] |
| International Journal of Stem Cell Research and Transplantation | Protective Role of Bone Marrow Derived Mesenchymal Stem Cells-Conditioned Medium in the Infarcted Myocardium: The Potential Role of Selected Cytokines [IJST-2328-3548-04-803] |
| Kidney Research and Clinical Practice | The role of local IL6/JAK2/STAT3 signaling in high glucose–induced podocyte hypertrophy [S2211913216300912] |
| Домашня стор?нка | ВПЛИВ КРОВОВТРАТИ НА ДИНАМ?КУ ВМ?СТУ ЦИТОК?Н?В СИРОВАТКИ КРОВ? В ПЕР?ОД ГОСТРО? РЕАКЦ?? НА КРАН?ОСКЕЛЕТНУ ТРАВМУ [83646] |
| Journal?of?Vascular?Research | Transplantation?of?Autologous?Bone?Marrow?Mononuclear?Cells?Regulates?Inflammation?in aRabbit?Model?of?Carotid?Artery?Atherosclerosis. [pubmed:27788500] |
| Neural regeneration research | Breviscapine reduces neuronal injury caused by traumatic brain injury insult: partly associated with suppression of interleukin-6 expression [pubmed:28250753] |
| The Royal Society of Chemistry | The positive role of macrophage secretion stimulated by BCP ceramic in the ceramic-induced osteogenic differentiation of pre-osteoblasts via Smad-related signaling pathways [c6ra23362g] |
| Journal of Agricultural and Food Chemistry | Effect of boron on thymic cytokine expression, hormone secretion, antioxidant functions, cell proliferation, and apoptosis potential via the ERK1/2 signaling pathway [pubmed:29032684] |
| Heart and Vessels | Interleukin-6 downregulated vascular smooth muscle cell contractile proteins via ATG4B-mediated autophagy in thoracic aortic dissection [pubmed:28965202] |
| PHYSIOLOGICAL RESEARCH | Selective Inhibition of NF-κB and Surfactant Therapy in Experimental Meconium-Induced Lung Injury [pubmed:28937237] |
| Iranian Journal of Basic Medical Sciences | Naringin attenuates diabetic retinopathy by inhibiting inflammation, oxidative stress and NF-κB activation in vivo and in vitro [pubmed:28852447] |
| Journal of Cellular Physiology | Increased Chondrogenic Potential of Mesenchymal Cells From Adipose Tissue Versus Bone Marrow‐Derived Cells in Osteoarthritic In Vitro Models [pubmed:27739057] |
| Oral Diseases | Glucosamine oral administration as an adjunct to hyaluronic acid injection in treating temporomandibular joint osteoarthritis [pubmed:28862770] |
| Research in Veterinary Science | The effect of feed supplementation with effective microorganisms(EM) on pro- and anti-inflammatory cytokine concentrations in pigs [pubmed:28549299] |
| Food & Function | Flavonoids from sea buckthorn inhibit the lipopolysaccharide-induced inflammatory response in RAW264. 7 macrophages through the MAPK and NF-κB … [DOI:10.1039/C6FO01873D] |
| Brain, Behavior, and Immunity | The long non-coding RNA Neat1 is an important mediator of the therapeutic effect of bexarotene on traumatic brain injury in mice [pubmed:28483659] |
| cellular?physiology and biochemistry | Hydrogen-Rich Saline Attenuates Brain Injury Induced by Cardiopulmonary Bypass and Inhibits Microvascular Endothelial Cell Apoptosis Via the PI3K/Akt/GSK3β … [pubmed:29040978] |
| Food & Function | Sea cucumber saponins liposomes ameliorate obesity-induced inflammation and insulin resistance in high-fat diet-fed mice [pubmed:29292463] |
| Microbial Immunology | Immunomodulatory Activities of a Fungal Protein Extracted from Hericium erinaceus through Regulating the Gut Microbiota [pubmed:28713364] |
| Archives of Oral Biology | The effect of restorative materials on cytokines in gingival crevicular fluid [pubmed:28992599] |
| Journal of Microbiology, Immunology and Infection | Identification of a panel of serum protein markers in early stage of sepsis and its validation in a cohort of patients [pubmed:28655573] |
| Scientific Reports | A Systems Pharmacology Approach to Determine Active Compounds and Action Mechanisms of Xipayi KuiJie'an enema for Treatment of Ulcerative colitis [doi:10.1038/s41598-017-01335-w] |
| PLoS One | Relationship between microRNA-146a expression and plasma renalase levels in hemodialyzed patients [pubmed:28614373] |
| Chinese Journal of comparative medicine (中國比較醫學雜志) | 富氫液通過P13K通路減輕大鼠腦缺血再灌注損傷 [doi:10u3969.j.issn.1671-7856] |
| Oncotarget. | Tumor-associated macrophages promote tumor metastasis via the TGF-β/SOX9 axis in non-small cell lung cancer [pubmed:29245941] |
| Giessener Elektronische Bibliothek | Cytokines and immunoglobulin genetics in neonatal calf diarrhea [14.07.2017] |
| University of Kassel | Candidates present views [Avion 1987-03-25] |
| Oxidative Medicine and Cellular Longevity | Overexpression of Brg1 Alleviates Hepatic Ischemia/Reperfusion-Induced Acute Lung Injury through Antioxidative Stress Effects [pubmed:28798861] |
| Nutrition | Administration of probiotic mixture DM#1 ameliorated 5-fluorouracil-induced intestinal mucositis and dysbiosis in rats [pubmed:27427511] |
| Journal of Dairy Science | Milk and serum IL-4, IL-6, IL-10, and amyloid A concentrations in cows with subclinical mastitis caused by coagulase-negative staphylococci [pubmed:28964518] |
| Current Eye Research | Inhibition of Fusarium solani Infection in Murine Keratocytes by Lactobacillus salivarius ssp. salivarius JCM1231 Culture Filtrate In Vitro [pubmed:28636459] |
| Oxidative Medicine and Cellular Longevity | Expression and Role of the Calcium-Sensing Receptor in Rat Peripheral Blood Polymorphonuclear Neutrophils [pubmed:29081886] |
| International Journal of Biological Sciences | Chronic Osteomyelitis Increases the Incidence of Type 2 Diabetes in Humans and Mice [pubmed:29104510] |
| Oncology Letters | Tanshinone II is a potent candidate for treatment of lipopolysaccharide-induced acute lung injury in rat model [10.3892/ol.2017.7581] |
| INTERNATIONAL JOURNAL OF MOLECULAR MEDICINE | Ginsenoside Rg1 inhibits inflammatory responses via modulation of the nuclear factor?κB pathway and inhibition of inflammasome activation in alcoholic hepatitis [pubmed:29207044] |
| Cellular Physiology and Biochemistry | Dexmedetomidine Alleviates HyperoxiaInduced Acute Lung Injury via Inhibiting NLRP3 Inflammasome Activation [pubmed:28873369] |
| Acta Paediatrica | Serum complement factor 5a levels are associated with nonalcoholic fatty liver disease in obese children [DOI:?10.1111/apa.14106] |
| Molecular Medicine Reports | Interleukin-17 antagonist attenuates lung inflammation through inhibition of the ERK1/2 and NF-κB pathway in LPS-induced acute lung injury [10.3892/mmr.2017.6837] |
| International Journal of Clinical and Experimental Pathology | Bone marrow-derived mesenchymal stem cells alleviates renal injury in severe acute pancreatitis via RhoA/Rho kinase [ISSN:1936-2625] |
| Tropical Journal of Pharmaceutical Research | Protective effect of salvianolic acid B against intestinal ischemia reperfusion-induced injury in a rat model [10.4314/tjpr.v16i10.17] |
| Pharmacology | Esculentoside A ameliorates cecal ligation and puncture-induced acute kidney injury in rats [pubmed:28637971] |
| Metabolic?Brain?Disease | Coenzyme Q10 and niacin mitigate streptozotocin-induced diabetic encephalopathy in a rat model [pubmed:28560538] |
| Biological Rhythm Research | Alteration in some pro and anti-inflammatory cytokines associated with complete and incomplete gestation cycle of cows [10.1080/09291016.2017.1319636] |
| Poultry Science | The effect of DL-, L-isomers and DL-hydroxy analog administered at 2 levels as dietary sources of methionine on the metabolic and antioxidant parameters and growth performance of turkeys [10.3382/ps/pex099] |
| Oncotarget | The immune impact of mimic endoscopic retrograde appendicitis therapy and appendectomy on rabbits of acute appendicitis. [pubmed:29029533] |
| Oncotarget | Pantoprazole blocks the JAK2/STAT3 pathway to alleviate skeletal muscle wasting in cancer cachexia by inhibiting inflammatory response. [pubmed:28489606] |
| International Journal of Cuban Health & Medicine | Anemia and Iron Deficiency Related to Inflammation, Helicobacter pylori Infection and Adiposity in Reproductive-age Cuban Women [10.1590/MEDICC.2017.1902030004?] |
| Oncotarget | Global gene expression profile of cerebral ischemia-reperfusion injury in rat MCAO model [pubmed:29088811] |
| Oncotarget | Neuroprotection of Botch in experimental intracerebral hemorrhage in rats. [pubmed:29221132] |
| Medycyna Pracy | Wp?yw pola magnetycznego niskiej cz?stotliwo?ci stosowanego w magnetoterapii na zawarto?? interleukiny 6 (il-6) w sercu i mózgu szczura [10.13075/mp.5893.00354] |
| Nature Medicine | An ALOX12-12-HETE-GPR31 signaling axis is a key mediator of hepatic ischemia-reperfusion injury. [pubmed:29227475] |
| PLoS One | Protective effect of aplysin on liver tissue and the gut microbiota in alcohol-fed rats [pubmed:28622357] |
| 25 | Blocking the Feedback Loop between Neuroendocrine Differentiation and Macrophages Improves the Therapeutic Effects of Enzalutamide (MDV3100) on Prostate Cancer. [pubmed:29191973] |
| Autonomic Neuroscience | Altered gastrointestinal motility in an animal model of Lesch-Nyhan disease. [pubmed:29305058] |
| Biological Rhythm Research | A study of altered cytokine rhythms associated with successful implantation in cows [10.1080/09291016.2017.1361159] |
| Inflammation | Calcitriol Ameliorates AngiotensinII-Induced Renal Injury Partly via Upregulating A20. [pubmed:28744711] |
| Biomedical and Environmental Sciences | Grape Seed Procyanidin Extract Reduces Arsenic-Induced Renal Inflammatory Injury in Male Mice. [pubmed:28756814] |
| Arthritis Research and Therapy | Increased synovial lipodystrophy induced by high fat diet aggravates synovitis in experimental osteoarthritis. [pubmed:29191221] |
| Journal of contemporary medical sciences | Attenuation of acute systemic inflammatory response after valve surgery [ISSN: 1556-4002] |
| Acta Pharmacologica Sinica | Cis-stilbene glucoside in Polygonum multiflorum induces immunological idiosyncratic hepatotoxicity in LPS-treated rats by suppressing PPAR-γ. [pubmed:28649126] |
| Toxicology | Biological effects of adipocytes in sulfur mustard induced toxicity [pubmed:29129815] |
| Molecular Medicine Reports | Mild hypothermia pretreatment protects against liver ischemia reperfusion injury via the PI3K/AKT/FOXO3a pathway [pubmed:28944825] |
| Veterinary microbiology | Secondary Haemophilus parasuis infection enhances highly pathogenic porcine reproductive and respiratory syndrome virus (HP-PRRSV) infection-mediated inflammatory responses. [pubmed:28532803] |
| Frontiers in Molecular Neuroscience | Rosiglitazone Exerts an Anti-depressive Effect in Unpredictable Chronic Mild-Stress-Induced Depressive Mice by Maintaining Essential Neuron Autophagy and Inhibiting Excessive Astrocytic Apoptosis. [pubmed:28959186] |
| Chronic Respiratory Disease | Inflammatory biomarkers and radiologic measurements in never-smokers with COPD: A cross-sectional study from the CODA cohort. [pubmed:29117798] |
| | In Vivo Study on the Hindrance Activity of Cinnamon Extract Against Aspergillus niger in Mice [ISSN: 0974-4290] |
| Nature Medicine | The deubiquitinating enzyme cylindromatosis mitigates nonalcoholic steatohepatitis [Pubmed:29291351] |
| Clinical?Cancer?Research | Metformin Inhibits Prostate Cancer Progression by Targeting Tumor-Associated Inflammatory Infiltration [Pubmed:30012567] |
| Clinical?Cancer?Research | Reciprocal network between cancer stem-like cells and macrophages facilitates the progression and androgen deprivation therapy resistance of prostate cancer [Pubmed:29691294] |
| Journal?of?Controlled?Release | Nose-to-brain delivery of insulin enhanced by a nanogel carrier [Pubmed:29196041] |
| Anesthesiology | Vasculotide, an angiopoietin-1 mimetic, restores microcirculatory perfusion and microvascular leakage and decreases fluid resuscitation requirements in?… [Pubmed:28968277] |
| Cellular Physiology and Biochemistry | Activated Α7nachr Improves Postoperative Cognitive Dysfunction and Intestinal Injury Induced by Cardiopulmonary Bypass in Rats: Inhibition of the Proinflammatory?… [Pubmed:29672286] |
| International Journal of?Obesity | Leptin alleviates intestinal mucosal barrier injury and inflammation in obese mice with acute pancreatitis [Pubmed:29934609] |
| Molecular Nutrition &?Food?Research | The Protective Activities of Dietary Sea Cucumber Cerebrosides Against Atherosclerosis Through Regulating Inflammation and Cholesterol Metabolism in Male Mice [Pubmed:29883529] |
| Environmental Pollution | Exposure to environmental level phenanthrene induces a NASH-like phenotype in new born rat [Pubmed:29656250] |
| Neuropharmacology | Levo-corydalmine alleviates vincristine-induced neuropathic pain in mice by inhibiting an NF-kappa B-dependent CXCL1/CXCR2 signaling pathway [Pubmed:29518397] |
| American Journal of Physiology-Lung?Cellular?and Molecular Physiology | Maternal PUFA omega-3 supplementation prevents hyperoxia-induced pulmonary hypertension in the offspring [Pubmed:29597832] |
| Journal of?Clinical?Periodontology? | Peroxisome proliferator‐activated receptor γ plays dual roles on experimental periodontitis in rats [Pubmed:29574908] |
| International Journal of Molecular Sciences | Screening of circular RNAs and validation of circANKRD36 associated with inflammation in patients with type 2 diabetes mellitus [Pubmed:30066828] |
| British journal of nutrition | Phytic acid improves intestinal mucosal barrier damage and reduces serum levels of proinflammatory cytokines in a 1, 2-dimethylhydrazine-induced rat colorectal?… [Pubmed:29947321] |
| Frontiers in Neurology | Ursolic Acid Ameliorates Inflammation in Cerebral Ischemia and Reperfusion Injury Possibly via High Mobility Group Box 1/Toll-Like Receptor 4/NFκB?… [Pubmed:29867706] |
| Journal of Functional Foods | Hepatoprotective effect of flavonoid-enriched fraction from Cyclocarya paliurus leaves on LPS/D-GalN-induced acute liver failure [10.1016:j.jff.2018.07.031] |
| Molecular?Brain | Resolvin D2 protects against cerebral ischemia/reperfusion injury in rats [Pubmed:29439730] |
| Inflammopharmacology | Protective effect of isoliquiritigenin against cerebral injury in septic mice via attenuation of NF-κB [Pubmed:29943151] |
| Inflammopharmacology | Polar extract of protects cartilage homeostasis: possible mechanism of action [Pubmed:29313174] |
| Food?&?Function | Asiatic acid suppresses neuroinflammation in BV2 microglia via modulation of the Sirt1/NF-κB signaling pathway [Pubmed:29354820] |
| Life?Sciences | Lipoxin A4 may attenuate the progression of obesity-related glomerulopathy by inhibiting NF-κB and ERK/p38 MAPK-dependent inflammation [Pubmed:29499280] |
| Life?Sciences | Dexmedetomidine attenuates renal fibrosis via α2-adrenergic receptor-dependent inhibition of cellular senescence after renal ischemia/reperfusion [Pubmed:29729264] |
| Life?Sciences | Modified porcine surfactant enriched by recombinant human superoxide dismutase for experimental meconium aspiration syndrome [Pubmed:29684443] |
| Brain?Research | Intra-arterial human urinary kallidinogenase alleviates brain injury in rats with permanent middle cerebral artery occlusion through PI3K/AKT/FoxO1 signaling pathway [Pubmed:29510144] |
| International Immunopharmacology | Switched memory B cells promote alveolar bone damage during periodontitis: An adoptive transfer experiment [Pubmed:30015235] |
| Free?Radical?Research | Lycium barbarum polysaccharide protects against LPS-induced ARDS by inhibiting apoptosis, oxidative stress, and inflammation in pulmonary endothelial cells [Pubmed:29502482] |
| Oncology?Reports | Silencing of Girdin suppresses the malignant behavior of colorectal carcinoma cells [Pubmed:29989653] |
| Bioscience?Reports | Decreased miR-128 expression alleviated the progression of Rheumatoid arthritis by up-regulating the expression of TNFAIP3 [Pubmed:29853534] |
| International Journal of Molecular Medicine | Aspirin modulates the inflammatory response in a thrombus?stimulated LMVEC model [Pubmed:29568915] |
| Neurochemical Research | E3 Ubiquitin Ligase c-cbl Inhibits Microglia Activation After Chronic Constriction Injury [Pubmed:29934689] |
| PLoS One | Chitosan oligosaccharide ameliorates acute lung injury induced by blast injury through the DDAH1/ADMA pathway [Pubmed:29415054] |
| Journal of?Dairy?Science | Relationship between body condition score and plasma adipokines in early-lactating Holstein dairy cows [Pubmed:30007810] |
| Biochemical and Biophysical?Research?Communications | PPARγ alleviated hepatocyte steatosis through reducing SOCS3 by inhibiting JAK2/STAT3 pathway [Pubmed:29550470] |
| Biochemical and Biophysical Research Communications | Chronic cold exposure results in subcutaneous adipose tissue browning and altered global metabolism in Qinghai-Tibetan plateau pika (Ochotona curzoniae) [Pubmed:29626477] |
| International Immunopharmacology? | Tn (-acetyl-d-galactosamine--serine/threonine) immunization protects against hyperoxia-induced lung injury in adult mice through inhibition of the nuclear factor?… [Pubmed:29669308] |
| Experimental?biology?and?medicine?(Maywood) | Shock waves increase pulmonary vascular leakage, inflammation, oxidative stress, and apoptosis in a mouse model [Pubmed:29984607] |
| Probiotics Antimicrob Proteins | Effect of Multi-Microbial Probiotic Formulation Bokashi on Pro-and Anti-Inflammatory Cytokines Profile in the Serum, Colostrum and Milk of Sows, and in a?… [Pubmed:29305686] |
| International Journal of Endocrinology | Uncoupling Protein 2 and Peroxisome Proliferator-Activated Receptor γ Gene Polymorphisms in Association with Diabetes Susceptibility in Chinese Han Population?… [Pubmed:29849618] |
| Microbial Pathogenesis | Pathogen-dependent modulation of milk neutrophils competence, plasma inflammatory cytokines and milk quality during intramammary infection of Sahiwal (Bos?… [Pubmed:29787791] |
| Archives of Virology | MAVS induces a host cell defense to inhibit CSFV infection [Pubmed:29556776] |
| Food?&?Nutrition?Research | Immunomodulatory activity of Lactobacillus plantarum KLDS1. 0318 in cyclophosphamide-treated mice [Pubmed:30026678] |
| BMC?Veterinary?Research | Inflammatory pattern of the infrapatellar fat pad in dogs with canine cruciate ligament disease [Pubmed:29769086] |
| Molecular Medicine Reports | Protective effects of N (2)?L?alanyl?L?glutamine mediated by the JAK2/STAT3 signaling pathway on myocardial ischemia reperfusion [Pubmed:29393473] |
| Molecular?Medicine?Reports? | Hydrogen?rich solution against myocardial injury and aquaporin expression via the PI3K/Akt signaling pathway during cardiopulmonary bypass in rats [Pubmed:29956781] |
| Molecular?Medicine?Reports | Epigallocatechingallate attenuates myocardial injury in a mouse model of heart failure through TGF?β1/Smad3 signaling pathway [Pubmed:29620209] |
| Medical Science Monitor | Rho Kinase Type 1 (ROCK1) Promotes Lipopolysaccharide-induced Inflammation in Corneal Epithelial Cells by Activating Toll-Like Receptor 4 (TLR4)?… [Pubmed:29804125] |
| Medical Science Monitor | Emodin Attenuates Bleomycin-Induced Pulmonary Fibrosis via Anti-Inflammatory and Anti-Oxidative Activities in Rats [Pubmed:29290631] |
| Medical Science Monitor | Sulforaphane, a Natural Isothiocyanate Compound, Improves Cardiac Function and Remodeling by Inhibiting Oxidative Stress and Inflammation in a Rabbit?… [Pubmed:29527002] |
| Experimental?Lung?Research | Anti-IL-8 antibody potentiates the effect of exogenous surfactant in respiratory failure caused by meconium aspiration [Pubmed:29324051] |
| International Urology and Nephrology | Mesenchymal stem cells alleviate acute kidney injury by down-regulating C5a/C5aR pathway activation [Pubmed:29594894] |
| Oncology?Letters | Hydrogen?rich solution attenuates myocardial injury caused by cardiopulmonary bypass in rats via the Janus?activated kinase 2/signal transducer and activator of?… [Pubmed:29928398] |
| Research?in Veterinary?Science | Milk fever in dairy cows is preceded by activation of innate immunity and alterations in carbohydrate metabolism prior to disease occurrence [Pubmed:29277015] |
| Journal of?Maternal-Fetal?&?Neonatal?Medicine | Amniotic fluid HIF1α and exosomal HIF1α in cervical insufficiency patients with physical examination-indicated cerclage [Pubmed:29357727] |
| Pakistan Veterinary Journal | Comparison of Plasma Interleukin-6 and Interleukin-10 Concentrations between Female Dogs with Mammary Gland Tumours and Healthy [17-377.pdf] |
| International Journal of Environmental Studies? | Effectiveness of steamed and cooked broccoli to attenuate bone marrow injury and suppressed haemopoiesis in male rats exposed to petrol vapours [10.1080:00207233.2018.1502956] |
| Tropical?Animal?Health?andProduction | Effect of reproductive disorders on productivity and reproductive efficiency of dromedary she-camels in relation to cytokine concentration [Pubmed:29423707] |
| International?Journal?of?Clinical?and?Experimental?Medicine | BoNT-A attenuated pain of endometriosis by inhibiting microglia activation [files:ijcem0055240.pdf] |
| Journal of Veterinary?Science | Rifaximin anti‐inflammatory activity on bovine endometrium primary cell cultures: a preliminary study [Pubmed:29984902] |
| | A Natural Dietary Supplement with a Combination of Nutrients Prevents Neurodegeneration Induced by a High Fat Diet in Mice [:] |
| Biotechnic & Histochemistry | Gastroprotective effect of apricot kernel oil in ethanol-induced gastric mucosal injury in rats [Pubmed: 30234391] |
| Platelets | Effects of different doses of ticagrelor on platelet aggregation and endothelial function in diabetic patients with stable coronary artery disease [Pubmed: 30252571] |
| American Journal of Translational?Research | Human mesenchymal stem cells attenuate hyperoxia-induced lung injury through inhibition of the renin-angiotensin system in newborn rats [Pubmed: 30210699] |
| Life?Sciences | Honokiol protects pulmonary microvascular endothelial barrier against lipopolysaccharide-induced ARDS partially via the Sirt3/AMPK signaling axis [Pubmed: 30171880] |
| Communications Biology | Activated hepatic stellate cells promote epithelial-to-mesenchymal transition in hepatocellular carcinoma through transglutaminase 2-induced pseudohypoxia [] |
| International Journal of Clinical and Experimental Pathology | Can the indicators of chronic ethanol consumption be minimized by a continuous flaxseed intake? [Pubmed: 30338600] |
| Food Science and Technology Research | Combinational Effect of Pine Needle Polysaccharide and Kudzu Flavonoids on Cell Differentiation and Fat Metabolism in 3T3-L1 Cells [Doi: 10.3136/fstr.24.903] |
| Neurobiology of Disease | Glucagon-like peptide-2 reduces the obesity-associated inflammation in the brain [Pubmed: 30347266] |
| Journal of?Dairy?Science | Metabolism and immune status during transition period influences the lactation performance in Zebu (Bos indicus () cows [Pubmed: 17430930] |
| International Immunopharmacology | Naringin protects against perfluorooctane sulfonate-induced liver injury by modulating NRF2 and NF-κB in mice [Pubmed: 30316072] |
| Immunology | DNA prime‐protein boost vaccine encoding HLA‐A2,‐A24 and‐DR 1 restricted epitopes of Ca NA 2 against visceral leishmaniasis [] |
| Journal of Pharmacological?Sciences | Improved endogenous epoxyeicosatrienoic acid production mends heart function via increased PGC 1α-mitochondrial functions in metabolic syndrome [Pubmed: 30342783] |
| Metabolic?Brain?Disease | Berberine ameliorates lipopolysaccharide-induced learning and memory deficit in the rat: insights into underlying molecular mechanisms [Pubmed: 30456649] |
| Emerging?Microbes?&?Infections | Immunogenicity and protective efficacy against Treponema pallidum in New Zealand rabbits immunized with plasmid DNA encoding flagellin [Pubmed: 30405111] |
| Research?in Veterinary?Science | Levels of selected cytokines and acute–phase proteins in the serum of dairy cows with cystic ovarian disease and those in follicular and luteal phases of normal?… [Pubmed: 30580231] |
| Annals of Animal Science | Redox and immunological status of turkeys fed diets with different levels and sources of copper [] |
| Biomedicine & Pharmacotherapy | Corn silk (Zea mays L.), a source of natural antioxidants with α-amylase, α-glucosidase, advanced glycation and diabetic nephropathy inhibitory activities [Pubmed: 30530231] |
| Experimental?Neurology | Significant changes in circular RNA in the mouse cerebral cortex around an injury site after traumatic brain injury [Pubmed: 30529438] |
| International?Journal?of?Clinical?and?Experimental?Medicine | Effects of fecal microbiota transplantation and joint application of probiotics on rats with alcoholic liver disease [] |
| Journal?of?Equine?Veterinary?Science | Differences In Blood Parameters Associated To Stress Response Between Chilean Rodeo Horses And Chilean Urban Working Horses [Doi: 10.1016/j.jevs.2018.12.005] |
| BBA- Molecular Basis of Disease | Enhanced remedial effects for vitamin D3 and calcium co-supplementation against pre-existing lead nephrotoxicity in mice: The roles of renal calcium homeostatic?… [Pubmed: 30553018] |
| Journal of Veterinary?Research | Early cytokine response after vaccination with Coxiella burnetii phase I in an infected herd of dairy cattle [] |
| International Journal of Chronic Obstructive Pulmonary Disease | Altered serum levels of type I collagen turnover indicators accompanied by IL-6 and IL-8 release in stable COPD [Pubmed: 30655663] |
| Neurochemical Research | Sinomenine Attenuates Traumatic Spinal Cord Injury by Suppressing Oxidative Stress and Inflammation via Nrf2 Pathway [Pubmed: 30603983] |
| EXPERIMENTAL ANIMALS | Protective effects of sulforaphane on diabetic retinopathy: activation of the Nrf2 pathway and inhibition of NLRP3 inflammasome formation [Pubmed: 30606939] |
| ACS?Applied?Materials?&?Interfaces | Rebuilding post-infarcted cardiac functions by injecting TIIA@ PDA NPs-crosslinked ROS sensitive hydrogels [Pubmed: 30592403] |
| Chinese Journal of Integrative Medicine | Electroacupuncture Delays Cartilage Degeneration by Modulating Nuclear Factor-κB Signaling Pathway [Pubmed: 30656598] |
| The?American?Journal?of?Sports?Medicine | Short-term Changes After Corticosteroid Injections Into the Normal Tendons of Rabbits: A Controlled Randomized Study [Pubmed: 30640506] |
| Journal?of?Hepatology | Chronic hyperammonemia induces peripheral inflammation that leads to cognitive impairment in rats: reversal by anti-tnfa treatment [Pubmed: 30654069] |
| Inflammopharmacology | Chandrasekaran Chinampudur Velusami, Edwin Jothie Richard & [] |
| Journal?Of?Clinical?Investigation | Long non-coding RNA mitigates atherosclerosis by regulating the actin-binding protein NEXN [Pubmed: 30589415] |
| Inflammation | Honokiol Attenuates Sepsis-Associated Acute Kidney Injury the Inhibition of Oxidative Stress and Inflammation [Pubmed: 30680694] |
| Toxicology | Bradykinin contributes to immune liver injury via B2R receptor-mediated pathways in trichloroethylene sensitized mice: a role in Kupffer cell activation [Pubmed: 30685357] |
| Acta?Biochimica et?Biophysica Sinica | Adiponectin attenuates lipopolysaccharide-induced cell injury of H9c2 cells by regulating AMPK pathway [Pubmed: 30668810] |
| Journal of?Neuroinflammation | Anti-inflammatory and cognitive effects of interferon-β1a (IFNβ1a) in a rat model of Alzheimer's disease [Pubmed: 30777084] |
| Journal of Functional Foods | Transcriptome profiling reveals the anti-diabetic molecular mechanism of Cyclocarya paliurus polysaccharides: Anti-diabetic molecular mechanism of Cyclocarya?… [Doi: 10.1016/j.jff.2018.12.039] |
| Journal of?Surgical?Research | Unfractionated Heparin Alleviates Sepsis-Induced Acute Lung Injury by Protecting Tight Junctions [Pubmed: 30771687] |
| Phytotherapy?Research | Synergistic enhancement and hepatoprotective effect of combination of total phenolic extracts of L. and methotrexate for treatment of rheumatoid?… [Pubmed: 30729592] |
| Life Sciences | Rosmarinic acid attenuates inflammatory responses through inhibiting HMGB1/TLR4/NF-κB signaling pathway in a mouse model of Parkinson's disease [] |
| Biological & Pharmaceutical Bulletin | Astragaloside IV regulates the PI3K/Akt/HO-1 signaling pathway and inhibits H9c2 cardiomyocyte injury induced by hypoxia-reoxygenation [Pubmed: 30867343] |
| Biomedicine & Pharmacotherapy | Three types of gut bacteria collaborating to improve Kui Jie'an enema treat DSS-induced colitis in mice [Pubmed: 30870717] |
| International Journal of Immunopathology and Pharmacology | Effect of voluntary running on expression of myokines in brains of rats with depression [Pubmed: 30834799] |
| Royal?Society?Open?Science | Metabolomics analysis of baicalin on ovalbumin-sensitized allergic rhinitis rats [] |
| International Journal of?Nanomedicine | Improving the anti-keloid outcomes through liposomes loading paclitaxel–cholesterol complexes [Pubmed: 30863067] |
| Experimental?Biology?and?Medicine | Grape seed proanthocyanidin extract alleviates arsenic-induced lung damage through NF-κB signaling [Pubmed: 30869553] |
| BioMed Research International | Effective Treatment of Bovine Mastitis with Intramammary Infusion of Angelica dahurica and Rheum officinale Extracts [] |
| BioMed Research International | Chlorogenic Acid Attenuates Dextran Sodium Sulfate-Induced Ulcerative Colitis in Mice through MAPK/ERK/JNK Pathway [] |
| Journal of?Pineal?Research | Role of melatonin in sleep deprivation‐induced intestinal barrier dysfunction in mice [Pubmed: 30929267] |
| Experimental?Lung?Research | Roles of citric acid in conjunction with saline nebulization in experimental tracheostomy in guinea pigs [Pubmed: 30973274] |
| PLoS One | Co-culture of osteochondral explants and synovial membrane as in vitro model for osteoarthritis [Pubmed: 30939166] |
| Toxicon | The wound healing potential of a pro-angiogenic peptide purified from Indian Russell's viper (Daboia russelii) venom [Pubmed: 31054289] |
| Journal of Cellular Physiology | Knockdown of periostin attenuates 5/6 nephrectomy‐induced intrarenal renin–angiotensin system activation, fibrosis, and inflammation in rats [] |
| | The role of amniotic fluid exosome, hypoxia inducible fator-1α, and inflammatory cytokine in cervical insufficiency [] |
| OPEN ACCESS MACEDONIAN JOURNAL OF MEDICAL SCIENCES | Seluang Fish (Rasbora Spp.) Oil Decreases Inflammatory Cytokines Via Increasing Vitamin D Level in Systemic Lupus Erythematosus [] |
| J Recept Signal Transduct Res | miR-21 promotes proliferation and inhibits apoptosis of hepatic stellate cells through targeting PTEN/PI3K/AKT pathway [Pubmed: 31038023] |
| Journal of Investigative Medicine | Intraperitoneal administration of activin A promotes development of endometriotic lesions in a mouse model of endometriosis [Pubmed: 31064924] |
| Phytotherapy Research | Total flavonoids from sea buckthorn ameliorates lipopolysaccharide/cigarette smoke‐induced airway inflammation [Pubmed: 31209984] |
| Ann Intensive Care | Inflammatory anemia-associated parameters are related to 28-day mortality in patients with sepsis admitted to the ICU: a preliminary observational study [Pubmed: 31183575] |
| Food & Function | Synergistic effect of sea cucumber saponin and EPA-enriched phospholipids on insulin resistance in high-fat diet-induced obese mice [Pubmed: 31199413] |
| Food & Function | Eicosapentaenoic acid in the form of phospholipid exerts superior anti-atherosclerosis effects than its triglyceride form in ApoE-/-mice [] |
| Frontiers in Immunology | Expression and Purification of Hybrid LL-37Tα1 Peptide in Pichia pastoris and evaluation of their Immunomodulatory and anti-inflammatory activities by LPS?… [] |
| Food & Function | Network pharmacology oriented study reveals inflammatory state-dependent dietary supplement hepatotoxicity responses in normal and diseased rats [Pubmed: 31140472] |
| Journal of the Royal Army Medical Corps | CD28 deficiency attenuates primary blast-induced renal injury in mice via the PI3K/Akt signalling pathway [Pubmed: 31129646] |
| Metallomics | Lanthanum chloride induces neuron damage by activating the nuclear factor-kappa B signaling pathway in activated microglia [Pubmed: 31187842] |
| | Pinealektomize Edilmi? Septik S??anlarda TNF-α, IL-6, IL-10 ve IL-1β'nin Kan Düzeyleri ile Karaci?er ve B?brekte Gen Ekspresyonu Seviyelerindeki?… [Doi: 10.5505/vtd.2019.32815] |
| Biomaterials | Magnetic-responsive and targeted cancer nanotheranostics by PA/MR bimodal imaging-guided photothermally triggered immunotherapy [] |
| Journal of Neurochemistry | Crosstalk between Cdk5/p35 and ERK1/2 signalling mediates spinal astrocyte activity via the PPARγ pathway in a rat model of chronic constriction injury [Pubmed: 31314915] |
| Archives of Dermatological Research | STAT3 polymorphisms and IL-6 polymorphism are associated with the risk of basal cell carcinoma in patients from northern Poland [Pubmed: 31342143] |
| neuroscience letters | Madecassoside ameliorates lipopolysaccharide-induced neurotoxicity in rats by activating the Nrf2-HO-1 pathway [Pubmed: 31330225] |
| Research in Veterinary Science | Evaluation of infrared thermography compared to rectal temperature to identify illness in early postpartum dairy cows [] |
| Inflammopharmacology | PD123319, angiotensin II type II receptor antagonist, inhibits oxidative stress and inflammation in 2, 4-dinitrobenzene sulfonic acid-induced colitis in rat and?… [Pubmed: 31321575] |
| Health and Medicine | Antiallergical Effect of New Combined Nazal Aerodisperse System in the Conditions of Experimental Allergic Rhinitis [] |
| Biomedicine & Pharmacotherapy | MODULATION OF LIPOPOLYSACCHARIDE-INDUCED CYTOKINES RESPONSE IN MICE BY GRAVIOLA LEAF POWDER [] |
| Free Radical Biology and Medicine | Vitamin D protects against oxidative stress, inflammation and hepatorenal damage induced by acute paracetamol toxicity in rat [Pubmed: 31255668] |
| Parasite Immunology | KLF4 upregulation is involved in alternative macrophage activation during secondary Echinococcus granulosus infection [Pubmed: 31407814] |
| Journal of Pediatric Surgery | The effects of hydrogen-rich saline solution on intestinal anastomosis performed after intestinal ischemia reperfusion injury [] |
| Nutrients | Cardioprotective Effect of a Virgin Olive Oil Enriched with Bioactive Compounds in Spontaneously Hypertensive Rats [Pubmed: 31357464] |
| Int Immunopharmacol | Metallothionein-1 is associated with osteoarthritis disease activity and suppresses proinflammatory cytokines production in synovial cells [Pubmed: 31465913] |
| Animals | Anti-Inflammatory State in Arabian Horses Introduced to the Endurance Training [Pubmed: 31462005] |
| Frontiers in Pharmacology | Naoxintong Capsule Inhibits the Development of Cardiovascular Pathological Changes in Bama Minipig Through Improving Gut Microbiota [Pubmed: 31632272] |
| Scientific Reports | Anti-inflammatory and antioxidant effects of muscarinic acetylcholine receptor (mAChR) activation in the rat hippocampus [Pubmed: 31578381] |
| Human & Experimental Toxicology | The effects of L-NAME on DU145 human prostate cancer cell line: a cytotoxicity-based study [Pubmed: 31610702] |
| Journal of Medicinal Food | Polysaccharide from the Seeds of Plantago asiatica L. Protect Against Lipopolysaccharide-Induced Liver Injury [Pubmed: 31560611] |
| Scientific Reports | The N-Acetyl Phenylalanine Glucosamine Derivative Attenuates the Inflammatory/Catabolic Environment in a Chondrocyte-Synoviocyte Co-Culture System [Pubmed: 31537813] |
| International Journal of Molecular Medicine | Kappa opioid receptor agonists improve postoperative cognitive dysfunction in rats via the JAK2/STAT3 signaling pathway [Pubmed: 31545485] |
| Pakistan Journal of Biological Sciences | Research Article Potential Protective Role of Rutin and Alpha-lipoic Acid Against Cisplatin-induced Nephrotoxicity in Rats [Pubmed: 31930824] |
| | INCREASED INTRA-ARTICULAR GRANZYME M TRIGGERS LOCAL PROINFLAMMATORY CYTOKINE RELEASE IN RHEUMATOID ARTHRITIS [Pubmed: 31172927] |
| Food & Function | Collaborative Effects of Chlorogenic Acid and Caffeine on Lipid Metabolism via AMPKα-LXRα/SREBP-1c Pathway in High-Fat Diet-Induced Obese Mice [Pubmed: 31670366] |
| BMC Veterinary Research | The immune response of young turkeys to haemorrhagic enteritis virus infection at different levels and sources of methionine in the diet [Pubmed: 31675966] |
| BMC Complementary and Alternative Medicine | Qingkailing injection ameliorates cerebral ischemia-reperfusion injury and modulates the AMPK/NLRP3 Inflammasome Signalling pathway [Pubmed: 31747940] |
| Bioscience Reports | Salidroside mitigates skeletal muscle atrophy in rats with cigarette smoke-induced COPD by up-regulating myogenin and down-regulating myostatin expression [Pubmed: 31702007] |
| International Immunopharmacology | Melatonin alleviates oxidative stress in sleep deprived mice: Involvement of small intestinal mucosa injury [Pubmed: 31835081] |
| Folia Morphologica | Beneficial effects of voluntary over forced exercise on skeletal muscle structure and myokines expression [Pubmed: 31802473] |
| Journal of Hazardous Materials | Triphenyl phosphate causes a sexually dimorphic metabolism dysfunction associated with disordered adiponectin receptors in pubertal mice [Pubmed: 31796355] |
| Journal of Controlled Release | Ginsenoside Rg3-loaded, reactive oxygen species-responsive polymeric nanoparticles for alleviating myocardial ischemia-reperfusion injury [Pubmed: 31783047] |
| Journal of Cardiovascular Translational Research | XPO1 Gene Therapy Attenuates Cardiac Dysfunction in Rats with Chronic Induced Myocardial Infarction [Pubmed: 31768947] |
| Journal of Food Science | Effects of Total Flavonoids from Exocarpium Citri Grandis on Air Pollution Particle‐Induced Pulmonary Inflammation and Oxidative Stress in Mice [Pubmed: 31762039] |
| Journal of?Photochemistry and?Photobiology?B | Neuroprotective effect of Wogonin on Rat's brain exposed to gamma irradiation [Pubmed: 31935591] |
| international urology and?nephrology | The therapeutic effect of dendritic cells expressing indoleamine 2, 3-dioxygenase (IDO) on an IgA nephropathy mouse model [Pubmed: 31894556] |
| Archives of Biochemistry and Biophysics | Syringin protects against colitis by ameliorating inflammation [Pubmed: 31899146] |
| Frontiers in Immunology | The Increase in IL-1β in the Early Stage of Heatstroke Might Be Caused by Splenic Lymphocyte Pyroptosis Induced by mtROS-Mediated Activation of the?… [Pubmed: 31921131] |
| Nutrients | Rotundic Acid Protects against Metabolic Disturbance and Improves Gut Microbiota in Type 2 Diabetes Rats [Pubmed: 31887996] |
| Transboundary and Emerging Diseases | Pathogenicity of porcine reproductive and respiratory syndrome virus (ORF5 RFLP 1–7–4 viruses) in China [Pubmed: 32187856] |
| GENES TO CELLS | MiR‐29c‐3p inhibits microglial NLRP3 inflammasome activation by targeting NFAT5 in Parkinson's disease [Pubmed: 32160394] |
| research in veterinary science | The association of circulating prepartum metabolites, minerals, cytokines and hormones with postpartum health status in dairy cattle [Pubmed: 32172001] |
| Nanomedicine | The toxicity of alumina nanoparticles to immune system in mice [Pubmed: 32162999] |
| Endocrine | Glucagon-like peptide-2 analog and inflammatory state in obese mice [Pubmed: 32172484] |
| Oxidative Medicine and Cellular Longevity | Leukocyte Telomere Length Independently Predicts 3-Year Diabetes Risk in a Longitudinal Study of Chinese Population [Pubmed: 32215181] |
| Scientific Reports | Corrosion Resistance of Graphene oxide/Silver Coatings on Ni–Ti alloy and Expression of IL-6 and IL-8 in Human Oral Fibroblasts [Pubmed: 32094428] |
| Biomed Pharmacother | Suppression of Fpr2 expression protects against endotoxin-induced acute lung injury by interacting with Nrf2-regulated TAK1 activation [Pubmed: 32106380] |
| BRAIN BEHAVIOR AND IMMUNITY | AVNP2 protects against cognitive impairments induced by C6 glioma by suppressing tumour associated inflammation in rats [Pubmed: 32097763] |
| Food & Function | Lowering effects of fish oil supplementation on proinflammatory markers in hypertension: results from a randomized controlled trial [Pubmed: 32044905] |
| Braz J Med Biol Res | Anti-placental growth factor antibody ameliorates hyperoxia-mediated impairment of lung development in neonatal rats [Pubmed: 31994602] |
| Antibiotics | Effects of Early Intervention with Antibiotics and Maternal Fecal Microbiota on Transcriptomic Profiling Ileal Mucusa in Neonatal Pigs [Pubmed: 31963653] |
| Frontiers in Microbiology | Topical Therapeutic Efficacy of Ebselen Against Multidrug-Resistant Staphylococcus aureus LT-1 Targeting Thioredoxin Reductase [Pubmed: 32010088] |
| JOURNAL OF GASTROENTEROLOGY AND HEPATOLOGY | Nonsteroidal anti‐inflammatory drugs alleviate severity of post‐ERCP pancreatitis by inhibiting inflammation and reducing apoptosis [Pubmed: 32064683] |
| JOURNAL OF HAZARDOUS MATERIALS | Silica nanoparticles induce JNK-mediated inflammation and myocardial contractile dysfunction [Pubmed: 32036317] |
| Biomed Research International | Hydrogen-Rich Saline Inhibits Lipopolysaccharide-Induced Acute Lung Injury and Endothelial Dysfunction by Regulating Autophagy through mTOR/TFEB … [Pubmed: 32071922] |
| Physiol Res | Effect of Different Dosages of Dexamethasone Therapy on Lung Function and Inflammation in an Early Phase of Acute Respiratory Distress Syndrome Model [Pubmed: 31928043] |
| Archives of Biochemistry and Biophysics | Micro RNA 146a gene variant/TNF-α/IL-6/IL-1 β; A cross-link axis inbetween oxidative stress, endothelial dysfunction and neuro-inflammation in acute ischemic stroke … [Pubmed: 31738890] |
| Medical Science Monitor | MicroRNA-27a-3p Downregulation Inhibits Inflammatory Response and Hippocampal Neuronal Cell Apoptosis by Upregulating Mitogen-Activated Protein Kinase 4?… [Pubmed: 31710596] |
| Respiratory Research | Synthetic surfactant with a recombinant surfactant protein C analogue improves lung function and attenuates inflammation in a model of acute respiratory?… [Pubmed: 31694668] |
| Carbohydrate Polymers | Two different fucosylated chondroitin sulfates: structural elucidation, stimulating hematopoiesis and immune-enhancing effects [Pubmed: 31887892] |
| | Silkworm pupa oil attenuates acetaminophen‐induced acute liver injury by inhibiting oxidative stress‐mediated NF‐κB signaling [Pubmed: 31993149] |
| | Irisin Improves Autophagy of Aged Hepatocytes via Increasing Telomerase Activity in Liver Injury [Pubmed: 31976032] |
| Food Science & Nutrition | Anti‐inflammatory effect from extracts of Red Chinese cabbage and Aronia in LPS‐stimulated RAW 264.7 cells [Pubmed: 32328255] |
| Journal of Pharmacy and Pharmacology | Tectorigenin inhibits inflammation and pulmonary fibrosis in allergic asthma model of ovalbumin‐sensitized guinea pigs [Pubmed: 32314371] |
| journal of dairy science | Mitochondrial membrane protein mitofusin 2 as a potential therapeutic target for treating free fatty acid–induced hepatic inflammation in dairy cows during early?… [Pubmed: 32278565] |
| Inflammation | Cyanidin-3-O-Glucoside Attenuates Lipopolysaccharide-Induced Inflammation in Human Corneal Epithelial Cells by Inducing Let-7b-5p-Mediated HMGA2/PI3K/Akt?… [Pubmed: 32248330] |
| Pharmazie | Anti-inflammatory effects of ginsenoside Rg3 on the hypertrophic scar formation via the NF-κB/IκB signaling pathway in rabbit ears [Pubmed: 32213242] |
| Stem Cells International | Exosomes of Antler Mesenchymal Stem Cells Improve Postoperative Cognitive Dysfunction in Cardiopulmonary Bypass Rats through Inhibiting the TLR2?… [Pubmed: 32300366] |
| Marine Drugs | Tu-Teng-Cao Extract Alleviates Monosodium Urate-Induced Acute Gouty Arthritis in Rats by Inhibiting Uric Acid and Inflammation [Pubmed: 23306170] |
| Nanomaterials | An OMV-Based Nanovaccine Confers Safety and Protection against Pathogenic Escherichia coli via Both Humoral and Predominantly Th1 Immune Responses in?… [Pubmed: 33233490] |
| LIFE SCIENCES | Intravitreal conbercept improves outcome of proliferative diabetic retinopathy through inhibiting inflammation and oxidative stress [Pubmed: 33227274] |
| BLOOD | Halting the FGF/FGFR axis leads to anti-tumor activity in Waldenstr?m's Macroglobulinemia by silencing MYD88. [Pubmed: 33197938] |
| Sci Rep | NFKB1 gene rs28362491 ins/del variation is associated with higher susceptibility to myocardial infarction in a Chinese Han population [Pubmed: 33177541] |
| Exp Lung Res | Ketogenic diet induces autophagy to alleviate bleomycin-induced pulmonary fibrosis in murine models [Pubmed: 33121292] |
| Cell Biochem Funct | The role of Smad4 in the regulation of insulin resistance, inflammation and cell proliferation in HTR8‐Svneo cells [Pubmed: 33079408] |
| INTERNATIONAL JOURNAL OF BIOLOGICAL MACROMOLECULES | Gastroprotective effect of Lycium barbarum polysaccharides and C-phyocyanin in rats with ethanol-induced gastric ulcer [Pubmed: 33058973] |
| Neuroscience | A new therapeutic strategy targeting protein deacetylation for spinal cord injury [Pubmed: 33039524] |
| BIOMEDICINE & PHARMACOTHERAPY | Chlorogenic acid prevents acute myocardial infarction in rats by reducing inflammatory damage and oxidative stress [Pubmed: 33022535] |
| INFLAMMATION | GPR120 Ameliorates Apoptosis and Inhibits the Production of Inflammatory Cytokines in Renal Tubular Epithelial Cells [Pubmed: 33009637] |
| DRUG AND CHEMICAL TOXICOLOGY | Toxicological impact of sodium benzoate on inflammatory cytokines, oxidative stress and biochemical markers in male Wistar rats [Pubmed: 33003960] |
| BMC Anesthesiology | Cerebrospinal fluid cholinergic biomarkers are associated with postoperative delirium in elderly patients undergoing Total hip/knee replacement: a?… [Pubmed: 32988385] |
| Heliyon | Effect of procyanidins on lipid metabolism and inflammation in rats exposed to alcohol and iron [Pubmed: 32964156] |
| Int J Neurosci | Downregulation of ROCK2 attenuates alcohol-induced inflammation and oxidative stress in astrocytes [Pubmed: 32942936] |
| Autophagy | LDHB inhibition induces mitophagy and facilitates the progression of CSFV infection [Pubmed: 32924761] |
| Biomed Pharmacother | Crocin ameliorates arsenic trioxide?induced cardiotoxicity via Keap1-Nrf2/HO-1 pathway: Reducing oxidative stress, inflammation, and apoptosis [Pubmed: 32920515] |
| J Cell Mol Med | LIGHT aggravates sepsis‐associated acute kidney injury via TLR4‐MyD88‐NF‐κB pathway [Pubmed: 32881263] |
| Nanotoxicology | miR-205/IRAK2 signaling pathway is associated with urban airborne PM2.5-induced myocardial toxicity [Pubmed: 32880512] |
| Drug Design Development and Therapy | Exosomes Derived from MicroRNA-146a-5p-Enriched Bone Marrow Mesenchymal Stem Cells Alleviate Intracerebral Hemorrhage by Inhibiting Neuronal?… [Pubmed: 32821084] |
| THERIOGENOLOGY | Porcine soluble CD83 alleviates LPS-induced abortion in mice by promoting Th2 cytokine production, Treg cell generation and trophoblast invasion [Pubmed: 32810792] |
| Theriogenology | A comparative study on various immunological parameters influencing embryo survivability in crossbred dairy cows [Pubmed: 32810791] |
| Biochimie | Exosomes derived from TSG-6 modified mesenchymal stromal cells attenuate scar formation during wound healing [Pubmed: 32800897] |
| Peptides | Liraglutide ameliorates lipotoxicity-induced inflammation through the mTORC1 signalling pathway [Pubmed: 32771373] |
| Journal of Natural Medicines | Preventive effect of dioscin against monosodium urate-mediated gouty arthritis through inhibiting inflammasome NLRP3 and TLR4/NF-κB signaling pathway activation?… [Pubmed: 32761488] |
| MOLECULAR AND CELLULAR BIOCHEMISTRY | MicroRNA-217 ameliorates inflammatory damage of endothelial cells induced by oxidized LDL by targeting EGR1 [Pubmed: 32737769] |
| Inflamm Res | IL-33 deficiency protects mice from DSS-induced experimental colitis by suppressing ILC2 and Th17 cell responses [Pubmed: 32728764] |
| BRITISH JOURNAL OF PHARMACOLOGY | A novel apoA‐I mimetic peptide suppresses atherosclerosis by promoting physiological HDL function in apoE?/? mice [Pubmed: 32726461] |
| Int Immunopharmacol | BNIP3 deletion ameliorated enterovirus 71 infection-induced hand, foot and mouth disease via inhibiting apoptosis, autophagy, and inflammation in mice [Pubmed: 32717566] |
| Lab Invest | Extracellular cold-inducible RNA-binding protein regulates neutrophil extracellular trap formation and tissue damage in acute pancreatitis [Pubmed: 32709888] |
| Parasites & Vectors | Fasciola gigantica excretory-secretory products (FgESPs) modulate the differentiation and immune functions of buffalo dendritic cells through a mechanism?… [Pubmed: 32680553] |
| Cell Cycle | SIRT1 relieves Necrotizing Enterocolitis through inactivation of Hypoxia-inducible factor (HIF)-1a [Pubmed: 32657204] |
| JOURNAL OF AGRICULTURAL AND FOOD CHEMISTRY | Highly Branched RG-I Domain Enrichment are Indispensable for Pectin Mitigating Against High-Fat Diet-Induced Obesity [Pubmed: 32633953] |
| journal of clinical laboratory analysis | has_circ_CCNB1 and has_circ_0009024 function as potential biomarkers for the diagnosis of type 2 diabetes mellitus [Pubmed: 32633001] |
| Scientific Reports | Integrated metabolomics and gut microbiome to the effects and mechanisms of naoxintong capsule on type 2 diabetes in rats [Pubmed: 32616735] |
| Mediators Inflamm | Amelioration of Coagulation Disorders and Inflammation by Hydrogen-Rich Solution Reduces Intestinal Ischemia/Reperfusion Injury in Rats through NF-κB … [Pubmed: 32587471] |
| BIOLOGICAL TRACE ELEMENT RESEARCH | Association Between Serum Selenium Level and Subclinical Mastitis in Dairy Cattle [Pubmed: 32583225] |
| Molecular Medicine Reports | Aquaporin?4 deletion ameliorates enterovirus 71 infection in mice [Pubmed: 32582978] |
| Frontiers in Bioengineering and Biotechnology | In vitro Impact of Yeast Expressed Hybrid Peptide CATH-2TP5 as a Prophylactic Measure Toward Sepsis and Inflammation [Pubmed: 32582649] |
| Prostate | The effect of pirfenidone on rat chronic prostatitis/chronic pelvic pain syndrome and its mechanisms [Pubmed: 32569423] |
| BIOTECHNOLOGY LETTERS | Recombinant ferritin nanoparticles can induce dendritic cell maturation through TLR4/NF-κB pathway [Pubmed: 32567013] |
| INTERNATIONAL IMMUNOPHARMACOLOGY | A potential drug combination of omeprazole and patchouli alcohol significantly normalizes oxidative stress and inflammatory responses against gastric ulcer in ethanol … [Pubmed: 32559721] |
| OBESITY SURGERY | The Protective Effects of Butorphanol on Pulmonary Function of Patients with Obesity Undergoing Laparoscopic Bariatric Surgery: a Double-Blind Randomized … [Pubmed: 32535786] |
| Journal of Neuroinflammation | CX3CR1-microglia mediates neuroinflammation and blood pressure regulation in the nucleus tractus solitarii of fructose-induced hypertensive rats [Pubmed: 32532282] |
| SHOCK | Circulating Exosomes From Lipopolysaccharide-Induced Ards Mice Trigger Endoplasmic Reticulum Stress in Lung Tissue [Pubmed: 32530844] |
| Frontiers in Pharmacology | Oxymatrine Attenuates Dopaminergic Neuronal Damage and Microglia-Mediated Neuroinflammation Through Cathepsin D-Dependent HMGB1/TLR4/NF-κB … [Pubmed: 32528295] |
| Neurotoxicology | Involvement of hippocampal agmatine in β1-42 amyloid induced memory impairment, neuroinflammation and BDNF signaling disruption in mice [Pubmed: 32522471] |
| JOURNAL OF CELLULAR AND MOLECULAR MEDICINE | The microvesicle/CD36 complex triggers a prothrombotic phenotype in patients with non‐valvular atrial fibrillation [Pubmed: 32510852] |
| BMC Complement Med Ther | Network pharmacology to dissect the mechanisms of Yinlai Decoction for pneumonia [Pubmed: 32493296] |
| molecular and cellular endocrinology | Andrographolide modulates HNF4α activity imparting on hepatic metabolism [Pubmed: 32422400] |
| Int J Mol Sci | Effects of PDE3 Inhibitor Olprinone on the Respiratory Parameters, Inflammation, and Apoptosis in an Experimental Model of Acute Respiratory Distress Syndrome [Pubmed: 32403267] |
| Int Immunopharmacol | Celastrol attenuates collagen-induced arthritis via inhibiting oxidative stress in rats [Pubmed: 32402948] |
| pharmacological research | 18β-Glycyrrhetinic acid acts through hepatocyte nuclear factor 4 alpha to modulate lipid and carbohydrate metabolism [Pubmed: 32353589] |
| american journal of physiology-lung cellular and molecular physiology | Extracellular Vesicles in Lung Health, Disease, and Therapy: Adipose-derived exosomes protect the pulmonary endothelial barrier in ventilator-induced lung … [Pubmed: 32073873] |
| ACS Chemical Neuroscience | α-Synuclein Exhibits Differential Membrane Perturbation, Nucleation, and TLR2 Binding through Its Secondary Structure [Pubmed: 33196165] |
| Journal of Diabetes Research | Regulation and Mechanism of miR-518d through the PPARα-Mediated NF-κB Pathway in the Development of Gestational Diabetes Mellitus [Pubmed: 33123597] |
| International Immunopharmacology | Echinacea polysaccharide alleviates LPS-induced lung injury via inhibiting inflammation, apoptosis and activation of the TLR4/NF-κB signal pathway [Pubmed: 33182056] |
| European Review for Medical and Pharmacological Sciences | Neuroprotective effect of CTRP3 overexpression against sevoflurane anesthesia-induced cognitive dysfunction in aged rats through activating AMPK/SIRT1 and … [Pubmed: 32432773] |
| | κ?opioid receptor agonists may alleviate intestinal damage in cardiopulmonary bypass rats by inhibiting the NF?κB/HIF?1α pathway [Pubmed: 32509012] |
| OXIDATIVE MEDICINE AND CELLULAR LONGEVITY | Potential Protective Effect of Dietary Intake of Non-α-Tocopherols on Cellular Aging Markers Mediated by Tumor Necrosis Factor-α in Prediabetes: A Cross … [Pubmed: 32509152] |
| OXIDATIVE MEDICINE AND CELLULAR LONGEVITY | TNFα Mediates the Interaction of Telomeres and Mitochondria Induced by Hyperglycemia: A Rural Community-Based Cross-Sectional Study [Pubmed: 32454945] |
| International Journal of Nanomedicine | Effect of Lonicerae japonicae Flos Carbonisata-Derived Carbon Dots on Rat Models of Fever and Hypothermia Induced by Lipopolysaccharide [Pubmed: 32606669] |
| Inflammation | Tetramethylpyrazine Inhibits Platelet Adhesion and Inflammatory Response in Vascular Endothelial Cells by Inhibiting P38 MAPK and NF-κB Signaling Pathways [] |
| Pharma Nutrition | Natural sources, dopaminergic and non-dopaminergic agents for therapeutic assessment of Parkinsonism in rat model [] |
| Indian Journal of Animal Sciences | Peripheral concentrations of metabolic and inflammatory indicators during transition period and their relationship with postpartum clinical endometritis in dairy?… [] |
| Food & Function | Nicotinamide riboside alleviates alcohol-induced depression-like behaviours in C57BL/6J mice by altering the intestinal microbiota associated with microglial?… [] |
| | Possible Role of Statins on the Inflammatory Biomarkers in Patients With Periodontal Disease: A Cross-Sectional Study [] |
| Biological Rhythm Research | Integrated effects of season and parturition-associated stress on the inflammatory response and metabolic status in Sahiwal (Bos Indicus) cows [] |
| Journal of Biochemical and Molecular Toxicology | Vitamin D3 and calcium cosupplementation alleviates cadmium hepatotoxicity in the rat: Enhanced antioxidative and anti‐inflammatory actions by remodeling cellular?… [] |
| Biotechnology & Biotechnological Equipment | Honokiol inhibits inflammation and endoplasmic reticulum stress in a rat model of pregnancy-induced hypertension [] |
| Journal of Functional Foods | Polyphenolic extracts from Wushan tea leaves attenuate hepatic injury in CCl4-treated mice [] |
| | Strawberry (Fragaria x ananassa) leaf extract reduces brain damage in diabetic male rats [] |
| The Journal of Nutritional Biochemistry | Supplementation of endogenous Ahr ligands reverses insulin resistance and associated inflammation in an insulin-dependent diabetic mouse model [] |
| Journal of Diabetes Research | Changes and Risk Factors of Skeletal Muscle Mass and Strength in Patients with Type 2 Diabetes over 60 Years Old: A Cross-Sectional Study from China [] |
| Applied materials today | Tanshinone IIA-loaded aligned microfibers facilitate stem cell recruitment and capillary formation by inducing M2 macrophage polarization [] |
| letter in applied nanobioscience | Phytochemical and Toxicological Effect of Ethanol Extract of Heliotropium Indicum on Liver of Male Albino Rats [] |
| | Microbiome changes in patients with chronic heart failure with preserved ejection fraction correlate with fibrosis markers: Description of a Russian cohort [] |
| Phytomedicine | Menthacarin attenuates experimental colitis [] |
| | Impact of Pharmacotherapy to decrease Interleukin-6 in patients with chronic rhinosinusitis without nasal polyp [] |
| | The Effects of Naringin on Cigarette Smoke-Induced Dynamic Changes in Oxidation/Antioxidant System in Lung of Mice [] |
| | HMGB1 and inflammatory cytokines in experimental acute lung injury induced in rabbits [] |
| | Anti-inflammatory effects of functional milk drink enriched with soya bean sprout protein in breastfeeding mothers [] |
| 中國應用生理學雜志 | 丹參對非酒精性脂肪肝Th17細胞及相關細胞因子的影響* [] |
| EC NEUROLOGY | Malted Barley Ameliorated Spinal Cord Injuries of Offspring of Hypercholesterolemic Mother Rats [] |
| Toxicol Appl Pharmacol | Astragaloside IV protects against retinal iron overload toxicity through iron regulation and the inhibition of MAPKs and NF-|êB activation [33285147] |
| Journal of Burn Care & Research | Umbilical cord mesenchymal stem cells (hUCMSCs) for inflammatory regulation after excision and grafting of severe burn wounds in rats [33313794] |
| Evidence-based Complementary and Alternative Medicine | Investigation of the Synergistic Effect of Brown Sugar, Longan, Ginger, and Jujube (Brown Sugar Longan Ginger Tea) on Antioxidation and Anti-Inflammation??- [33343673] |
| Nutrients | AphaMax?, an Aphanizomenon Flos-Aquae Aqueous Extract, Exerts Intestinal Protective Effects in Experimental Colitis in Rats [33256017] |
| Int J Mol Med | Astragaloside IV alleviates silica?induced pulmonary fibrosis via inactivation of the TGF?|?1/Smad2/3 signaling pathway [33448318] |
| Biochem Pharmacol | Inactivation of Wnt/|?-catenin/renin angiotensin axis by tumor necrosis factor-alpha inhibitor, infliximab, ameliorates CKD induced in rats [33482150] |
| Stem Cell Reviews and Reports | Prospects on the Potential In Vitro Regenerative Features of Mechanically Treated-Adipose Tissue for Osteoarthritis Care [33469783] |
| Scientific Reports | Ultra-purified alginate gel implantation decreases inflammatory cytokine levels, prevents intervertebral disc degeneration, and reduces acute pain after discectomy [33436742] |
| EUROPEAN JOURNAL OF PHARMACOLOGY | Gliclazide alters macrophages polarization state in diabetic atherosclerosis in vitro via blocking AGE-RAGE/TLR4-reactive oxygen species-activated NF-k|? nexus [33460615] |
| Nature Communications | A DNA origami-based aptamer nanoarray for potent and reversible anticoagulation in hemodialysis [33441565] |
| physiological reports | Impact of synthetic surfactant CHF5633 with SP?\B and SP?\C analogues on lung function and inflammation in rabbit model of acute respiratory distress syndrome [33403805] |
| Life Sci | Celecoxib ameliorates liver cirrhosis via reducing inflammation and oxidative stress along spleen-liver axis in rats [33577848] |
| J Pediatr Urol | Protective effects of hydrogen rich saline solution on ventral penile Mathieu type flap with penile tourniquet application in rats [33608226] |
| J Biochem Mol Toxicol | Concanavalin A induces apoptosis in a dose?\dependent manner by modulating thiol/disulfide homeostasis in C6 glioblastoma cells [33604990] |
| Int Immunopharmacol | Overexpression of FOXA2 attenuates cigarette smoke-induced cellular senescence and lung inflammation through inhibition of the p38 and Erk1/2 MAPK pathways [33571746] |
| european journal of clinical nutrition? | Effect of Lactobacillus casei on lipid metabolism and intestinal microflora in patients with alcoholic liver injury [33514869] |
| Biomed Pharmacother | Qingfei oral liquid inhibited autophagy to alleviate inflammation via mTOR signaling pathway in RSV-infected asthmatic mice [33706133] |
| Int Immunopharmacol | Ginkgolide A attenuates sepsis-associated kidney damage via upregulating microRNA-25 with NADPH oxidase 4 as the target [33677255] |
| Drug Des Devel Ther | Convallatoxin Promotes M2 Macrophage Polarization to Attenuate Atherosclerosis Through PPAR|?-Integrin |áv|?5 Signaling Pathway [33654384] |
| bmc pediatrics | Factors associated with neurodevelopment in preterm infants with systematic inflammation [33685414] |
| INFLAMMATION | Acid Sphingomyelinase and Acid |?-Glucosidase 1 Exert Opposite Effects on Interleukin-1|?-Induced Interleukin 6 Production in Rheumatoid Arthritis Fibroblast-Like Synoviocytes [33665756] |
| TOXICOLOGY IN VITRO | Cyproheptadine causes apoptosis and decreases inflammation by disrupting thiol/disulfide balance and enhancing the levels of SIRT1 in C6 glioblastoma cells [33675893] |
| MOLECULAR BIOLOGY REPORTS | The growth-inhibitory effects of pawpaw (Asimina triloba [L.] Dunal) roots, twigs, leaves, and fruit against human gastric (AGS) and cervical (HeLa) cancer cells and [33630206] |
| Sci Rep | Association between MIF gene promoter rs755622 and susceptibility to coronary artery disease and inflammatory cytokines in the Chinese Han population [33850223] |
| Am J Transl Res | From hair to pancreas: transplanted hair follicle mesenchymal stem cells express pancreatic progenitor cell markers in a rat model of acute pancreatitis [33841664] |
| Biochem Cell Biol | Formononetin protects against concanavalin-A-induced autoimmune hepatitis in mice through its anti-apoptotic and anti-inflammatory properties [33749318] |
| Hum Exp Toxicol | Alamandine significantly reduces doxorubicin-induced cardiotoxicity in rats [33882726] |
| NEUROSCIENCE RESEARCH | Sleep disturbance induces depressive behaviors and neuroinflammation by altering the circadian oscillations of clock genes in rats [33785408] |
| BIOMATERIALS | Aligned microfiber-induced macrophage polarization to guide schwann-cell-enabled peripheral nerve regeneration [33813259] |
| Biomed Pharmacother | Macro- and microtranscriptomic evidence of the monocyte recruitment to regenerating liver after partial hepatectomy in mouse model [33765583] |
| Cell Death & Disease | Sodium/glucose cotransporter 1-dependent metabolic alterations induce tamoxifen resistance in breast cancer by promoting macrophage M2 polarization [34006822] |
| Probiotics Antimicrob Proteins | Characterization of Iturin V, a Novel Antimicrobial Lipopeptide from a Potential Probiotic Strain Lactobacillus sp. M31 [33987819] |
| FASEB Bioadv | Cyclophilin A induces macrophage apoptosis and enhances atherosclerotic lesions in high?\fat diet?\fed hyperglycemic rabbits [33977232] |
| Life Sci | Asiatic acid attenuates diabetic retinopathy through TLR4/MyD88/NF-|êB p65 mediated modulation of microglia polarization [33965378] |
| Orthop Surg | Proline?\Serine¨CThreonine Phosphatase?\Interacting Protein 2 Alleviates Diabetes Mellitus?\Osteoarthritis in Rats through Attenuating Synovial Inflammation and??- [33939302] |
| Biochem Cell Biol | CLEC5A knockdown protects against the cardiac dysfunction after Myocardial infarction by suppressing macrophage polarization, NLRP3 inflammasome activation??- [33939927] |
| Biomed Pharmacother | Captopril downregulates expression of Bax/cytochrome C/caspase-3 apoptotic pathway, reduces inflammation, and oxidative stress in cisplatin-induced acute??- [33945910] |
| Sci Rep | Corrosion Resistance of Graphene oxide/Silver Coatings on Ni¨CTi alloy and Expression of IL-6 and IL-8 in Human O... [32094428] |
| Nephron | Dexmedetomidine Exerts Renal Protective Effect by Regulating the PGC-1|á/STAT1/IRF-1 Axis [33965939] |
| Drug Design Development and Therapy | Effects of Systemic Lidocaine on Postoperative Recovery Quality and Immune Function in Patients Undergoing Laparoscopic Radical Gastrectomy [33976537] |
| Stem Cell Research & Therapy | Consecutive daily administration of intratracheal surfactant and human umbilical cord-derived mesenchymal stem cells attenuates hyperoxia-induced lung??- [33933128] |
| Int J Clin Pract | Serum Galectin?\3 Levels in Patients with Psoriasis [34137138] |
| Brain Res Bull | Melatonin ameliorates anxiety-like behaviors induced by sleep deprivation in mice: role of oxidative stress, neuroinflammation, autophagy and apoptosis [34144202] |
| Clin Res Hepatol Gastroenterol | Cellular Communication Network Factor 1 (CCN1) Knockdown Exerts a Protective Effect for Hepatic Ischemia/Reperfusion Injury by Deactivating the MEK/ERK??- [34144219] |
| IUBMB Life | HOXA5 induces M2 macrophage polarization to attenuate carotid atherosclerosis by activating MED1 [34117711] |
| Exp Eye Res | Ameliorative effects and mechanisms of salvianic acid A on retinal iron overload in vivo and in vitro [34058232] |
| Chem Biol Interact | Hepatoprotective effect of anemoside B4 against sepsis-induced acute liver injury through modulating the mTOR/p70S6K-mediated autophagy [34051206] |
| Med Sci Monit | Post-Treatment Sevoflurane Protects Against Hypoxic-Ischemic Brain Injury in Neonatal Rats by Downregulating Histone Methyltransferase G9a and Upregulating ?- [34059615] |
| Biological Chemistry | HDAC8 promotes daunorubicin resistance of human acute myeloid leukemia cells via regulation of IL-6 and IL-8 [33938176] |
| Stem Cells International | The Paracrine Effect of Adipose-Derived Stem Cells Orchestrates Competition between Different Damaged Dermal Fibroblasts to Repair UVB-Induced Skin??- [33381190] |
| BioMed Research International | Ultrashort Wave Combined with Human Umbilical Cord Mesenchymal Stem Cell (HUC-MSC) Transplantation Inhibits NLRP3 Inflammasome and Improves??- [33376718] |
| Evidence-Based Complementary and Alternative Medicine | Zisheng Shenqi Decoction Ameliorates Monosodium Urate-Mediated Gouty Arthritis in Rats via Promotion of Autophagy through the AMPK/mTOR Signaling??- [33505502] |
| Oxidative Medicine and Cellular Longevity | Yixin-Shu Capsules Ameliorated Ischemia-Induced Heart Failure by Restoring Trx2 and Inhibiting JNK/p38 Activation [33643519] |
| Pharmaceutics | PK/PD Modeling of the PDE7 Inhibitor?aGRMS-55 in a Mouse Model of Autoimmune Hepatitis. Pharmaceutics 2021, 13, 597 [33919375] |
| cells | The Effect of the Clenbuterol?a|?2-Adrenergic Receptor Agonist on the Peripheral Blood Mononuclear Cells Proliferation, Phenotype, Functions, and Reactive Oxygen??- [33920705] |
| Antioxidants | Hidrox? Roles in Neuroprotection: Biochemical Links between Traumatic Brain Injury and Alzheimer's Disease [34065584] |
| | Melatonin-mediated MT2 attenuates colitis induced by dextran sodium sulfate via PI3K/AKT/Nrf2/SIRT1/ROR|á/NF-|êB signaling pathways [34162146] |
| | Continuous Veno-Venous Hemofiltration (CVVH) Improves Iron Metabolism Disorders in Patients With Sepsis: A Single-Center Prospective Cohort Study [] |
| | Berberine Attenuates Neonatal Sepsis in Rats By Inhibiting FOXA1 and NF-|êB Signaling Transduction Via The Induction of miR-132-3p [] |
| researchsquare | Modulation of Oxidative and Nitrosative Stress Attenuates Microvascular Hyperpermeability in Ovine Model of Pseudomonas Aeruginosa Sepsis [] |
| Annals of the Romanian Society for Cell Biology | Comparative Study on the Pro-Inflammatory Activity of Turmeric (Curcuma longa) and flaxseed (Linumusitatissimum) [] |
| | Amplified Antitumor Efficacy By A Targeted Drugs Retention and Chemosensitization Strategies-Based ?°Combo?± Nanoagent Together With PD-L1 Blockade In??- [] |
| Saudi Pharmaceutical Journal | CoQ10 augments candesartan protective effect against tourniquet-induced hind limb ischemia-reperfusion: involvement of non-classical RAS and ROS??- [] |
| Veterinary World | Comparative evaluation of cytokine and acute-phase protein concentrations in sera of dairy cows with subclinical and clinical ketosis as a different view of the ?- [] |
| Mediators of Inflammation | Sparstolonin B Exerts Therapeutic Effects on Collagen-Induced Arthritis by Inhibiting the NLRP3 Inflammasome and Reducing the Activity of |á1, 3 ?- [] |
| biomolecules | Treadmill Running Changes Endothelial Lipase Expression: Insights from Gene and Protein Analysis in Various Striated Muscle Tissues and Serum [] |
| Cancer Lett | Photodynamic therapy induces human esophageal carcinoma cell pyroptosis by targeting the PKM2/caspase-8/caspase-3/GSDME axis [34256094] |
| J Pharm Pharmacol | Alamandine protects against renal ischaemia–reperfusion injury in rats via inhibiting oxidative stress [34244746] |
| J Nanobiotechnology | Amplified antitumor efficacy by a targeted drug retention and chemosensitization strategy-based "combo" nanoagent together with PD-L1 blockade in?… [34225744] |
| PPAR Research | Activation of the Peroxisome Proliferator-Activated Receptors (PPAR-α/γ) and the Fatty Acid Metabolizing Enzyme Protein CPT1A by Camel Milk Treatment?… [34306045] |
| Naunyn Schmiedebergs Arch Pharmacol | Amelioration of autoimmunity and inflammation by zinc oxide nanoparticles in experimental rheumatoid arthritis [34236500] |
| Front Pharmacol | In Silico and In Vivo Studies on the Mechanisms of Chinese Medicine Formula (Gegen Qinlian Decoction) in the Treatment of Ulcerative Colitis [34177580] |
| J Cell Mol Med | Puerarin attenuates intracerebral hemorrhage‐induced early brain injury possibly by PI3K/Akt signal activation‐mediated suppression of NF‐κB pathway [34180121] |
| PLoS One | Could serum zonulin be an intestinal permeability marker in diabetes kidney disease? [34170951] |
| Intensive Care Medicine Experimental | Preservation of renal endothelial integrity and reduction of renal edema by aprotinin does not preserve renal perfusion and function following experimental?… [34169407] |
| Aging | Yiqi Jiemin decoction alleviates allergic rhinitis in a guinea pig model by suppressing inflammation, restoring Th1/Th2 balance, and improving cellular?… [34315133] |
| Peptides | Alamandine, a derivative of angiotensin-(1-7), alleviates sepsis-associated renal inflammation and apoptosis by inhibiting the PI3K/Ak and MAPK pathways [34400214] |
| Lab Med | Interleukin-6 and Serum/Fecal Calprotectin as Useful Specific Markers for Monitoring Rheumatic Diseases: A Pilot Study [34405886] |
| Sci Rep | Talaromyces marneffei and nontuberculous mycobacteria co-infection in HIV-negative patients [34376749] |
| Am J Transl Res | Combined treatment with epigenetic agents enhances anti-tumor activity of T cells by upregulating the ACRBP expression in hepatocellular carcinoma [34377237] |
| Transl Vis Sci Technol | Intraocular Pressure-Lowering Effects of Trabeculectomy Versus MicroShunt Insertion in Rabbit Eyes [34357381] |
| J Burn Care Res | Efficacy of Acupuncture on Pain Mechanisms, Inflammatory Responses, and Wound Healing in the Acute Phase of Major Burns: An Experimental Study on Rats [34309681] |
| Inflammation | Berberine Attenuates Neonatal Sepsis in Mice By Inhibiting FOXA1 and NF-κB Signal Transduction Via the Induction of MiR-132-3p [34523052] |
| Mol Med Rep | Emodin inhibits the progression of acute pancreatitis via regulation of lncRNA TUG1 and exosomal lncRNA TUG1 [34498715] |
| Int Immunopharmacol | Pravastatin attenuates sepsis-induced acute lung injury through decreasing pulmonary microvascular permeability via inhibition of Cav-1/eNOS pathway [34464887] |
| J Nanobiotechnology | The neuroprotective effect of pretreatment with carbon dots from Crinis Carbonisatus (carbonized human hair) against cerebral ischemia reperfusion injury [34454522] |
| JOURNAL OF PHARMACY AND PHARMACOLOGY | Potential therapeutic efficacy of pachymic acid in chronic kidney disease induced in rats: role of Wnt/β-catenin/renin–angiotensin axis [34549301] |
| BIOMEDICINE & PHARMACOTHERAPY | Ginkgo biloba extract (EGb 761) mitigates methotrexate-induced testicular insult in rats: Targeting oxidative stress, energy deficit and spermatogenesis [34560547] |
| JOURNAL OF ETHNOPHARMACOLOGY | Ethanolic extract of Pyrus pashia buch ham ex. D. Don (kainth): A bioaccessible source of polyphenols with anti-inflammatory activity in vitro and in vivo [34517063] |
| Neurosci Lett | Flavin-containing monooxygenase 1 deficiency promotes neuroinflammation in dopaminergic neurons in mice [34500002] |
| Eur J Pharmacol | Hydralazine attenuates renal inflammation in diabetic rats with ischemia/reperfusion acute kidney injury [34478692] |
| Int Immunopharmacol | Diacerein ameliorates testosterone-induced benign prostatic hyperplasia in rats: Effect on oxidative stress, inflammation and apoptosis [34450401] |
| Biomed Pharmacother | Allicin ameliorates renal ischemia/reperfusion injury via inhibition of oxidative stress and inflammation in rats [34426252] |
| Life Sci | Ingestion of mannose ameliorates thioacetamide-induced intrahepatic oxidative stress, inflammation and fibrosis in rats [34637794] |
| The Journal of Clinical Endocrinology & Metabolism | High Hemoglobin glycation index is associated with telomere attrition independent of HbA1c, mediating by TNFα [34562085] |
| J Thromb Haemost | Transfusion of fresh washed platelets does not prevent experimental polymicrobial‐induced septic shock in mice [34752015] |
| J Cell Mol Med | Stress‐induced phosphoprotein 1 restrains spinal cord ischaemia‐reperfusion injury by modulating NF‐κB signalling [34734476] |
| Transl Psychiatry | Associations between expression of indoleamine 2, 3-dioxygenase enzyme and inflammatory cytokines in patients with first-episode drug-naive?… [34802039] |
| Biofactors | Vitamin D3 enhances the effects of omega‐3 oils against metabolic dysfunction‐associated fatty liver disease in rat [34767670] |
| J Ethnopharmacol | Bai-Hu-Tang regulates endothelin-1 and its signalling pathway in vascular endothelial cells [34752899] |
| J Ethnopharmacol | Identification of potential regulating effect of baicalin on NFκB/CCL2/CCR2 signaling pathway in rats with cerebral ischemia by antibody-based array and?… [34699947] |
| Mol Immunol | MiR-142-5p directly targets cyclin-dependent kinase 5-mediated upregulation of the inflammatory process in acquired middle ear cholesteatoma [34875451] |
| Neurosci Let | Fingolimod protects against cerebral ischemia reperfusion injury in rats by reducing inflammatory cytokines and inhibiting the activation of p38 MAPK and NF-κB?… [34942319] |
| Brain Sci | Neuroprotective Effect of Clobenpropit against Lipopolysaccharide-Induced Cognitive Deficits via Attenuating Neuroinflammation and Enhancing Mitochondrial?… [34942919] |
| Environmental Research | In-vitro oxidative potential and inflammatory response of ambient PM2. 5 in a rural region of Northwest China: Association with chemical compositions and?… [34863982] |
| Alzheimers Res Ther | Intermittent hypoxia treatment alleviates memory impairment in the 6-month-old APPswe/PS1dE9 mice and reduces amyloid beta accumulation and?… [34844651] |
| World J Gastroenterol | Calycosin attenuates severe acute pancreatitis-associated acute lung injury by curtailing high mobility group box 1-induced inflammation [34908806] |
| Experimental and Therapeutic Medicine | Autonomic regulation of imbalance?induced myocardial fibrosis and its mechanism in rats with cirrhosis [34373726] |
| Journal of Food and Nutrition Research | Effects of a Fermented Grape Combined with Specified Fruits and Vegetables or Their Extracts on Anti-aging and Anti-inflammatory Status: A Randomized?… [33755227] |
| Journal of Immunology | Administration of a Probiotic Mixture Ameliorates Cisplatin-Induced Mucositis and Pica by Regulating 5-HT in Rats [34568500] |
| Biomedicines | Sphingosine 1-Phosphate (S1P) in the Peritoneal Fluid Skews M2 Macrophage and Contributes to the Development of Endometriosis [34829748] |
| Pharmaceutics | Nitric-Oxide-Releasing Dexamethasone Derivative NCX-1005 Improves Lung Function and Attenuates Inflammation in Experimental Lavage-Induced ARDS [34959373] |
| IUBMB Life | Endogenous dipeptide‐carnosine supplementation ameliorates hypobaric hypoxia‐induced skeletal muscle loss via attenuating endoplasmic reticulum stress?… [34455667] |
| Respir Res | Knockdown of circFOXO3 ameliorates cigarette smoke-induced lung injury in mice [34789242] |
| Neuropsychiatric Disease and Treatment | The Association Between Hypoxia Improvement and Electroconvulsive Therapy for Major Depressive Disorder [34588778] |
| Oxidative Medicine and Cellular Longevity | Roles of Suaeda vermiculata Aqueous-Ethanolic Extract, Its Subsequent Fractions, and the Isolated Compounds in Hepatoprotection against Paracetamol?… [34567411] |
| Carbohydrate Polymers | The anti-inflammatory activity of specific-sized hyaluronic acid oligosaccharides [34823813] |
| Antioxidants | Key Mechanisms and Potential Implications of Hericium erinaceus in NLRP3 Inflammasome Activation by Reactive Oxygen Species during Alzheimer's Disease [34829535] |
| Biomedicines | Exploring Epithelial–Mesenchymal Transition Signals in Endometriosis Diagnosis and In Vitro Fertilization Outcomes [34829910] |
| Mol Med Rep | Long non-coding RNA NEAT1 participates in ventilator-induced lung injury by regulating miR-20b expression [Pubmed:34981816] |
| Int J Nanomedicine | Protective Effects of Carbon Dots Derived from Armeniacae Semen Amarum Carbonisata Against Acute Lung Injury Induced by Lipopolysaccharides in Rats [Pubmed:35023915] |
| Poult Sci | Effects of different selenium sources on duodenum and jejunum tight junction network and growth performance of broilers in a model of fluorine-induced?… [Pubmed:35066382] |
| Poult Sci | Salmonella phage CKT1 significantly relieves the body weight loss of chicks by normalizing the abnormal intestinal microbiome caused by hypervirulent?… [Pubmed:35063807] |
| Bioengineered | Inflammation promotes erythropoietin induced vascular calcification by activating p38 pathway [Pubmed:35168476] |
| J Biochem Mol Toxicol | Silencing of IGF2BP1 restrains ox‐LDL‐induced lipid accumulation and inflammation by reducing RUNX1 expression and promoting autophagy in macrophages [Pubmed:35179253] |
| Cell Death Discov | Itaconate inhibits ferroptosis of macrophage via Nrf2 pathways against sepsis-induced acute lung injury [Pubmed:35110526] |
| J Dairy Sci | Intake of Bifidobacterium lactis Probio-M8 fermented milk protects against alcoholic liver disease [Pubmed:35086715] |
| Exp Biol Med (Maywood) | Protective antioxidative and anti-inflammatory actions of β-caryophyllene against sulfasalazine-induced nephrotoxicity in rat [Pubmed:35068213] |
| Peptides | Osteocrin alleviates cardiac hypertrophy via attenuating oxidative stress [Pubmed:35218795] |
| Int Immunopharmacol | LncRNA KCNQ1OT1 attenuates myocardial injury induced by hip fracture via regulating of miR-224-3p/GATA4 axis [Pubmed:35217336] |
| PLoS One | Investigation of the active ingredients and pharmacological mechanisms of Porana sinensis Hemsl. Against rheumatoid arthritis using network pharmacology?… [Pubmed:35235611] |
| Eur Rev Med Pharmacol Sci | Evaluation of hepatoprotective effect of Nebivolol and sodium copper Chlorophyllin on CCL4-induced hepatotoxicity in mice [Pubmed:35302221] |
| Molecular Biotechnology | MiR-199a-3p Restrains Foaming and Inflammation by Regulating RUNX1 in Macrophages [Pubmed:35435591] |
| Clinical Oral Investigations | Evaluation of salivary and serum methylated arginine metabolites and nitric oxide synthase in advanced periodontitis patients [Pubmed:35426000] |
| Theranostics | Combating multidrug resistance and metastasis of breast cancer by endoplasmic reticulum stress and cell-nucleus penetration enhanced?… [Pubmed:35401832] |
| Biomed Pharmacother | Huangbai liniment and berberine promoted wound healing in high-fat diet/Streptozotocin-induced diabetic rats [Pubmed:35430394] |
| Antioxidants (Basel) | Effect of Alpha-Lipoic Acid on Rat Ventricles and Atria under LPS-Induced Oxidative Stress [Pubmed:35453419] |
| Drug Des Devel Ther | Lung-Protective Effects of Lidocaine Infusion on Patients with Intermediate/High Risk of Postoperative Pulmonary Complications: A Double-Blind Randomized?… [Pubmed:35422611] |
| PLoS One | Effects of maternal ritodrine hydrochloride administration on the heart rate of preterm fetal sheep with intraamniotic inflammation [Pubmed:35358222] |
| Journal of Nanobiotechnology | Biomimetic GBM-targeted drug delivery system boosting ferroptosis for immunotherapy of orthotopic drug-resistant GBM [Pubmed:35351131] |
| Clin Oral Investig | Influence of periodontal inflammation on tryptophan-kynurenine metabolism: a cross-sectional study [Pubmed:35588020] |
| Molecules | 5, 2′-Dibromo-2, 4′, 5′-trihydroxydiphenylmethanone Inhibits LPS-Induced Vascular Inflammation by Targeting the Cav1 Protein [Pubmed:35566232] |
| Evid Based Complement Alternat Med | Loureirin B Alleviates Myocardial Ischemia/Reperfusion Injury via Inhibiting PAI-1/TGF-β1/Smad Signaling Pathway [Pubmed:35535157] |
| Life Sci | Infliximab and/or MESNA alleviate doxorubicin-induced Alzheimer's disease-like pathology in rats: A new insight into TNF-α/Wnt/β-catenin signaling pathway [Pubmed:35523286] |
| Eur J Pharmacol | Potential cardioprotective effect of octreotide via NOXs mitigation, mitochondrial biogenesis and MAPK/Erk1/2/STAT3/NF-kβ pathway attenuation in isoproterenol?… [Pubmed:35500641] |
| J Clin Med | Endometrial Dysbiosis Is Related to Inflammatory Factors in Women with Repeated Implantation Failure: A Pilot Study [Pubmed:35566605] |
| American Journal of Translational Research | Curcumin treats endometriosis in mice by the HIF signaling pathway [Pubmed:35559378] |
| Mol Immunol | Oridonin alleviates kanamycin-related hearing loss by inhibiting NLRP3/caspase-1/gasdermin D-induced inflammasome activation and hair cell pyroptosis [Pubmed:35749835] |
| J Biomed Mater Res B Appl Biomater | Hybrid system with stable structure of hard/soft tissue substitutes induces re‐osseointegration in a rat model of biofilm‐mediated peri‐implantitis [Pubmed:35620882] |
| J Inflamm Res | The κ-Opioid Receptor Agonist U50488H Ameliorates Neuropathic Pain Through the Ca2+/CaMKII/CREB Pathway in Rats [Pubmed:35645576] |
| Int J Mol Sci | Antiosteoporotic Nanohydroxyapatite Zoledronate Scaffold Seeded with Bone Marrow Mesenchymal Stromal Cells for Bone Regeneration: A 3D In Vitro Model [Pubmed:35682677] |
| Journal of Biomaterials Applications | Photobiomodulation associated with lipid nanoparticles and hyaluronic acid accelerate the healing of excisional wounds [Pubmed:35705485] |
| Evidence-Based Complementary and Alternative Medicine | Pretreatment with Shenmai Injection Protects against Coronary Microvascular Dysfunction [Pubmed:35722150] |
| Asian Journal of Surgery | Lipid emulsions prevent postoperative abdominal adhesions [Pubmed:35688763] |
| | Evaluation of Tubular Dysfunction Using Urine Biomarkers in Children with COVID-19 [Pubmed:35110086] |
| Experimental and Therapeutic Medicine | Construction of a rabbit model with vinorelbine administration via peripherally inserted central catheter and dynamic monitoring of changes in phlebitis and thrombosis [Pubmed:35126715] |
| Neuromodulation: Technology at the Neural Interface | Transcutaneous Electrical Acustimulation Improved the Quality of Life in Patients With Diarrhea-Irritable Bowel Syndrome [Pubmed:35088760] |
| Antioxidants | Blue Light Alters the Composition of the Jejunal Microbiota and Promotes the Development of the Small Intestine by Reducing Oxidative Stress [Pubmed:35204158] |
| Antioxidants | Bio-Evaluation of the Wound Healing Activity of Artemisia judaica L. as Part of the Plant's Use in Traditional Medicine; Phytochemical, Antioxidant, Anti-Inflammatory?… [Pubmed:35204215] |
| Veterinary World | Pro-inflammatory cytokine release from chicken peripheral blood mononuclear cells stimulated with lipopolysaccharide [Pubmed:35698506] |
| Medicina | Plasma Concentrations of Cytokines in Patients with Combined Hyperlipidemia and Atherosclerotic Plaque before Treatment Initiation—A Pilot Study [Pubmed:35630041] |
| Pharmaceuticals | Discovery of Nitro-azolo[1,5-a]pyrimidines with Anti-Inflammatory and Protective Activity against LPS-Induced Acute Lung Injury [Pubmed:35631365] |
| International Journal of Molecular Sciences | Regulation of Neuroinflammatory Signaling by PPARγ Agonist in Mouse Model of Diabetes [Pubmed:35628311] |
| Biomedicine & Pharmacotherapy | Bicyclol ameliorates advanced liver diseases in murine models via inhibiting the IL-6/STAT3 signaling pathway [Pubmed:35658240] |
| Journal of Integrative Medicine | Salvadora persica extract attenuates cyclophosphamide-induced hepatorenal damage by modulating oxidative stress, inflammation and apoptosis in rats [Pubmed:35643766] |
| Journal of Pharmaceutical Research International | Effectiveness of Turmeric and Extra Virgin Olive Oil in the Management of IL 6 and IL 10 in Healthy Mice [] |
| researchsquare | Dexmedetomidine Attenuates Hyperalgesia Induced By Brachial Plexus Root Avulsion By Restoring The GLT-1 Function Via PKA Signaling [] |
| ResearchSquare | LncRNA KCNQ10T1 shuttled by bone marrow mesenchymal stem cells-derived exosome inhibits sepsis via regulation of miR-154-3p/RNF19A axis [] |
| Biointerface Research in Applied Chemistry | Promising Therapeutic Efficacy of Trigonella-foenum graecum and Bone Marrow-Derived Mesenchymal Stem Cells on Skeletal Muscle Atrophy in Experimental?… [] |
| | Protective effects of carbon dots derived from Rhei radix et rhizoma carbonisata on DSS (dextran sulfate sodium)-induced ulcerative colitis [] |
| | Anti-inflammatory activity of non-selective PDE inhibitor aminophylline on the lung tissue and respiratory parameters in animal model of ARDS [] |
| | Evaluation of the Effects of Empagliflozin on Acute Lung Injury in Rat Intestinal Ischemia-Reperfusion Model [] |
| Journal of Traditional Chinese Medical Sciences | Qinzhi Zhudan formula improves memory and alleviates neuroinflammation in vascular dementia rats partly by inhibiting the TNFR1-mediated TNF pathway [] |
| Intensive Care Research | Evaluating the Roles of sCD14 and sCD14-ST in Diagnosing COPD and Predicting an Acute Exacerbation of COPD [] |
| Comparative Clinical Pathology | Mechanisms underlying the hepatoprotective effect of silymarin on fluoxetine-induced liver injury in rats: the implication of peroxisome proliferator–activated receptor?… [] |